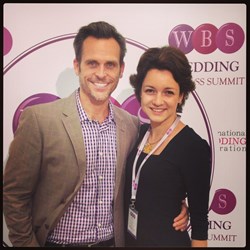 "An unforgettable wedding is all about the details. This can be achieved by getting to know the bride and groom and what unique attributes make up their personality."
Los Angeles, CA (PRWEB) November 12, 2013
The first annual Wedding Business Summit in Kiev, Ukraine invites Los Angeles based, celebrity wedding and event planner, Brian Worley of YourBASH, to inspire attendees seeking to find their space in the growing industry of wedding and event planning in the Ukraine, Russia, and many surrounding countries. The Summit was a tremendous success with over 400 attendees at the first event scheduled to be held every year in November.
Mr. Worley shared with the eager-to-learn audience, his creative approach to planning a memorable experience for the bride and groom and all their invited guests. Worley shared with them the importance of creating an event that uniquely represents the personality and beauty of the bride, a process that he emphasizes must start with the design the bride's dress. Worley also spent time answering questions from the audience and meeting with them personally to help give them direction and find their personal niche within the industry.
"I was thrilled to be asked by the Wedding Business Summit to be their guest speaker at the first annual event. Everyone at the Summit was so warm and welcoming. I loved meeting with many of the attendees and sharing creative ideas and experiences with each other and learning of their culture and traditions." stated Brian Worley.
The industry of wedding planning is in it's infancy stages in the Ukraine, Russia and other surrounding countries. The culture is evolving to realize the unique addition that a talented wedding planner can provide to such an important and memorable event. Worley emphasized to the attendees the importance of creating an experience that the bride and groom, and each of their guests will remember for a lifetime.
Individuals and companies can begin their own Brian Worley Experience by visiting BrianWorley.com or by following Brian on the Brian Worley blog, Twitter or Facebook, or by visiting the production company YourBASH at Your-BASH.com
About Brian Worley
Brian Worley is partner/creative director of YourBASH!, a full service event production company. Brian has over 15 years of experience to his credit. This extensive background of event production, coordination, design and "hands on" know how has allowed him the opportunity to produce events ranging from celebrity and high profile weddings, top entertainment networks, corporate clients, movie premiers, and product launches.