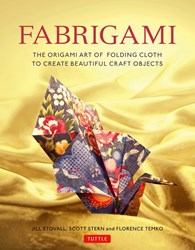 North Clarendon, VT (PRWEB) November 12, 2013
Tuttle Publishing has announced the release of its newest origami title, Fabrigami. Fabrigami is the art of folding fabrics to create three-dimensional objects ranging from the practical to the whimsical. Like paper, there are countless beautiful fabric designs to choose from, only fabric has the virtue of being extremely durable.
Author Jill Stovall developed this distinctive technique working with the late Florence Temko, one of the origami world's greatest icons. Along with the help of illustrator and origami artist Scott Stern, Stovall brings Temko's last work to print for everyone to use and enjoy.
This book presents instructions on how to treat fabric so it holds a shape when folded as well as a series of fun craft projects with simple origami-style diagrams including:

Fan-tastic Fold Earrings
Evening Wine Coat
Florence's Hexagon Box
Cloth Kimono Card
Cloth Couture High Heeled Shoe
Pleated Peacock
Origami is known to be the art of paper folding. The Fabrigami technique allows readers to make objects that are just as beautiful but longer lasting. Completed projects make great keepsakes and gifts for friends and family for the holiday season. Fabrigami is now available everywhere books are sold including online at Tuttle Publishing and Amazon.
About the Authors
Jill Stovall has been an educator, librarian, researcher, and writer for many years. Jill's love of origami and her friendship with Florence led her to bring Fabrigami to completion. When she's not sailing her boat across the world, Stovall lives in La Jolla, California.
Currently a student at Yale University, Scott Wasserman Stern has been folding origami since he was three years old. He is the author of Outside the Box Origami.
Florence Temko (1921-2009) was the internationally acclaimed author of over fifty how-to crafts books and a leading authority on origami and kirigami. She was a founding board member of Origami USA, a member of the Authors Guild, and a consultant for the Mingei International Museum.
About Tuttle Publishing
Established in 1948 by Charles Egbert Tuttle Jr. in Rutland, Vermont and Tokyo, Japan, Tuttle Publishing is the premier publisher of English language books on Asian culture. Today, Tuttle maintains an active offering of books on a wide range of topics, including Asian culture, Asian literature, Asian architecture, Eastern spirituality, gardening, cooking, martial arts, crafts, travel, health and wellness, and fine art for a worldwide audience. For more information, visit http://tuttlepublishing.com.