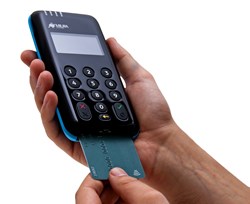 Our new products are designed to place mobility at the heart of customer engagement. The new M007, will help develop the new culture in retailing where the checkout can be taken to wherever the customer is.
(PRWEB UK) 13 November 2013
Miura Systems; the UK-based, leading provider of secure electronic payment hardware to the world's leading Mobile Point of Sale (MPOS) payment providers, has announced the latest additions to its innovative product range, delivering lower total cost of ownership, greater innovation and flexibility to all retail sectors.
Over the last two years, Miura's MPOS Chip & PIN devices have dominated the MPOS payment market, powering payments for blue chip payment providers including Worldpay, Paypal, Payleven, Adyen, iZettle and Intuit. Over 75 per cent of the leading mobile Chip & PIN payment service providers worldwide have utilised the powerful Shuttle platform and today, Miura unveils a new product, the M007. The new device will sit alongside its best-selling Shuttle device.
The new M007 is an exceptional device bringing MPOS functionality directly to mainstream retail with its ability to balance the high demands of volume payment processing whilst retaining flexibility to be mobile and be integrated with the multitude of peripherals used in today's complex payment environments.
At the Point of Sale it can be connected via its purpose-built, yet stylish new Retail Cradle to deliver a traditional retail PIN Entry Device (PED) set up which, when powered by USB, removes the need for bulky proprietary power supplies or costly and ugly wires at the till point. The M007's simple locking mechanism can secures it to its counter position but allows easy release to enable re-deployment or swap out. Furthermore this new device supports Miura's 7816 based API's affording simple integration into existing payment software.
However its real game-changing innovation comes from its ability to deliver mobile solutions via Bluetooth or Wi-Fi. The same M007 that services the traditional Point of Sale can now be integrated with smart devices like a cash-register-ready tablet or smartphone to go completely mobile. With its light-weight, elegant design, the M007 gives the retailer real flexibility to deliver a new payment experience direct to their customers, wherever they are.
With the M007 merchants can take payments at conventional service points or if required, it can be used to maximise sales at the point of display making better use of staff, increasing customer interaction and reducing the chance of lost sales.
The M007 is equally versatile when dealing with the payment challenges faced by the hospitality sector. Taking payment at a diner's table (indoor or outdoor) or from a consumer at any point along a bar is now both efficient and cost effective.
Even retailers who have not yet defined an MPOS strategy can integrate the M007 with the peace of mind that the solution meets the current high demands of retail yet gives them future-proofing to deliver the next generation of payment experience for their customers. The open architecture of the M007 supports fast integration -with all types of peripherals including barcode scanners, biometric readers and signatures panel for use while transitioning to EMV standards..
Speaking about the new products, Andrew Dark, Chairman of Miura Systems comments, "Our new products are designed to place mobility at the heart of customer engagement. The new M007, will help develop the new culture in retailing where the checkout can be taken to wherever the customer is. This changes the way retailers interact with customers and offers them the opportunity to deliver greater value and with it increased shopper loyalty and sales. We're particularly hoping to excite those who either haven't been able to afford, or believed it was too complicated to create a mobile checkout in the past with our simple solution. The lower cost of ownership will facilitate retailers of any size, who may have previously avoided accepting mobile payments, to introduce mobile Point Of Sale into their operations. Today's extremely varied retail environments need joined up payment solutions so we're taking the experience to the next level, offering a payment solution that works here, there – in fact anywhere!"