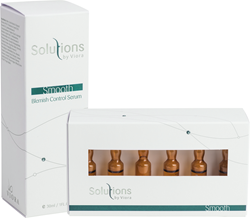 Smooth™ is an exciting new entry in a physician's arsenal to fight acne, delivering excellent, immediately visible results in the control of blemishes and oily skin.
Jersey City, NJ (PRWEB) November 12, 2013
Viora, a leading medical aesthetics solutions provider, is proud to announce the launch of Smooth™, the newest offering in the line of Solutions™ - ampoules and serum for inventive skin care. Developed specifically for use with Infusion™, Viora's electromesotherapy device utilizing Ionwave™ technology for superior dermal delivery, Smooth™ is specially formulated to control blemishes and oily skin.
Smooth™ – Skincare for Blemishes and Oily Skin
Following the successful introduction of Solutions™ Bright™, for skin lightening, anti-aging and resurfacing, Viora continues to respond to market demand by developing Smooth™, an innovative skincare treatment for acne, by controlling blemishes and oily skin. Smooth™ patients see immediate visible results with prolonged improvements over time. Consisting of ampoules for bi-weekly in-clinic treatments with Infusion™, complemented with daily at-home serum, Smooth™ balances oily and problematic skin by decreasing sebum production and reducing the appearance of comedones and blemishes, while gently exfoliating the skin. Smooth™ patients enjoy a fresh, matte complexion with minimized pores for a new, clean appearance.
Smooth™'s active ingredients are clinically proven and known to be effective in the fight against acne. Including natural substance extracts as well as active antibacterial ingredients help prevent bacterial culture and the formation of blemishes. Smooth™'s uniquely combined components, used with Infusion™, is suitable for all skin types and provides a new solution for sufferers of this condition.
"After researching the market, Viora discovered that existing treatments to treat acne did not include follow-up by practitioners, and thereby discouraged patient commitment to the home sessions. This drawback has been addressed by Solutions™ which combines bi-weekly professional Infusion™ electromesotherapy treatments for optimal penetration of the ampoules, along with daily home care serum. This combination ensures that clients' skin care needs are met due to allowing physicians a more comprehensive appraisal of their patients' progress, thereby leading to a successful completion of the treatment regime," said Meital Ben-Tovim, General Manager, Viora. "Smooth™ is an exciting new entry in a physician's arsenal to fight acne, delivering excellent, immediately visible results in the control of blemishes and oily skin."
About Infusion
Infusion™ is designed for safe, non-invasive electroporation for both face and body applications. Using proprietary Ionwave™ technology, skin permeability is maximized to allow for the safe passage of natural healing compounds. Infusion™'s specially formulated ampoule solutions for both face and body applications.
About Viora
Viora is a market-leading aesthetic solutions provider for skincare applications for patients seeking the most advanced developments for the most requested treatments: rejuvenation, resurfacing, body & facial contouring, skin tightening, cellulite reduction, acne control, lightening, hydration, hair removal, exfoliation and more. Viora's expertise in developing solutions and technology for these applications ensures greater physician and client satisfaction. Viora's extensive knowledge and experience is forged from its expansive and deep connections to the aesthetic community and has allowed Viora to create the most sought after solutions, and achieve the most effective results. For more information, visit http://www.vioramed.com.