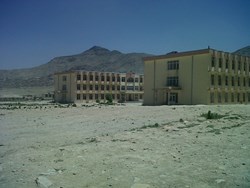 We worked closely with the Ministry of Borders and Tribal Affairs to first understand what was required in schools and then develop a customized solution.
Reston, VA (PRWEB) November 12, 2013
Supreme Foundation, a registered charitable trust established by the global supply chain solutions provider Supreme Group, has recently opened a computer lab to support the education of 2,000 disadvantaged students attending Khushal Khan #1 High School in Kabul.
The project involved the procurement and installation of computer workstations, projectors and printers, as well as the refurbishment of the classroom's electrics, cables, doors and security system. In addition, Supreme Foundation has sponsored the appointment of a full-time IT teacher to teach computer studies to all students. It is the first time that computers will be available at the school.
Mohammad Nabi Sahab, Director of Education for the Afghan Ministry of Borders and Tribal Affairs, said: "Until now, our students have been learning computer studies theoretically, without any practical experience. It is difficult for our students to become professionals and start their careers without any computer skills. This donation will make a very big and important impact on the lives of our students and we are extremely grateful."
A service contract is included in the sponsorship program, which means that all equipment will be serviced by computer engineers every week. Quarterly reviews will also be held at the school to test the children on their IT skills progress. The students will be taught about basic computer hardware, Windows operating systems, MS Office, typing skills, various software programs, how to use email and the internet, and how to pursue further studies in Information Technology.
"We worked closely with the Ministry of Borders and Tribal Affairs to first understand what was required in schools," said Victoria Frost, Supreme Group's Director of Communications and Treasurer of Supreme Foundation. "We discovered that not only is the IT education is very poor, but qualified teachers are also rare and there is almost no access to computers. We are therefore assured that by investing in this school's computer lab, we are guaranteeing the education of thousands of students. We are proud to be delivering a brighter future for these children," she added.
Kushal Khan #1 School was established in 1949 for children living in the border areas of Afghanistan, and many of the school's graduates have become important social figures such as ministers, politicians, writers, defense force leaders, among others. Today around 2,000 students, aged between 12 to 21 years, attend the school from all provinces; as the school aims to encourage future stability by uniting students in education, regardless of their ethnicity and tribal backgrounds.
"We established the Supreme Foundation in 2009 with the aim of investing in community projects that make a real difference in people's lives. We are delighted to have achieved excellent results that have fostered hope and given people better chances in life," said Stephen Orenstein, Principal, Supreme Group.
Supreme Foundation aims to alleviate hardship and improve the health, education and living conditions of disadvantaged children in conflict areas and remote regions around the world where Supreme Group operates. The non-profit organization helps children to develop the skills, knowledge and experience to lead successful, sustainable lives and contribute to their families, communities and countries. The Foundation has made substantial investments in schools, healthcare facilities, and housing developments in Bosnia, the Ivory Coast and Afghanistan.
Supreme Group is a leader in the provision of end to end supply chain solutions in some of the world's most challenging and remote locations. The Group has operated in Afghanistan for more than 10 years in support of many of the world's leading organizations, governments and diplomatic missions. For more information, visit http://www.supreme-group.net.
-ends-
About Supreme Group:
Founded in 1957, Supreme Group is a global leader in the provision of end-to-end supply chain solutions to defense, government, and energy & extractives sector clients around the world. For more than fifty years, the company has provided critical, life-sustaining services that empower clients to accomplish missions in challenging and austere environments.
Supreme offers a unique breadth of capabilities – ranging from procurement, transportation and storage through to technology and full site services. Today, its legacy of proven and trusted performance in challenging environments spans more than fifty years; covering 30 nations and five continents.
Supreme has a long history of supporting international organizations and governments. Its current clients include the United Nations (UN), the North Atlantic Treaty Organization (NATO), and leading military forces including the US Department of Defense (DoD) and the UK Ministry of Defence (MoD). Over the years, the company has also partnered with many private sector clients.
The Group's excellent reputation is built on the key strengths of delivering where others cannot; implementing rapid response solutions; and creating fully integrated supply chain solutions. Today, Supreme is a 100% privately owned and financially independent organization; with the financial strength to tackle even the most complex supply chain challenge.
As a socially responsible company, Supreme Group strives to maintain the highest standards of ethics and integrity across operations at all times. It is committed to respecting people and the environment; nurturing community development; implementing sustainable business practices; and giving back to the communities in which it operates.
More information on Supreme Group can be found by visiting http://www.supreme-group.net.
For other enquiries, please contact:
Carissa Crowley
External Communications Manager
Supreme Group
Business Mobile: +971 (0) 56 6819085 (UAE)
carissa.crowley(at)supreme-group(dot)net
Victoria Frost
Director of Corporate Development, Marketing & Communications
Supreme Group
Business Mobile: +971 (0) 56 6832123 (UAE)
victoria.frost(at)supreme-group(dot)net