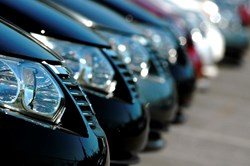 People can get all the benefits of having a nearly new car, without having to suffer the loss of depreciation.
Manchester, UK (PRWEB UK) 14 November 2013
As sales of new cars soar to their highest within the last five and half years*, there has never been a better time for motorists looking to snap up a used car bargain.
So says Emily Henshall, Marketing Manager at online car finance specialist, Carfinance247: "With the sale of new cars at an all time high since the start of the economic crisis, the knock on effect is that there will be a wider selection and better quality used cars available for a buyer looking to upgrade their car without having to buy brand new."
Ms. Henshall states there are many used vehicles available to buy that are still relatively new (i.e. with 2012 and 2013 number plates) "meaning that people can get all the benefits of having a nearly new car, without having to suffer the loss of depreciation, which can be anything from 12-25%** in less than 6 months."
She adds: "So while the news headlines are all about brand new car sales, now is a good time to look at a second hand upgrade with a growing number of used vehicles to choose from".
Ends

**Independent research conducted in September 2012 using vehicles then available on the Carfinance247.co.uk website, compared with the same makes and models as new, using the Which? Car depreciation tool. Example of actual depreciation carried out in September 2012 and based on Vauxhall Corsa 1.0 (2012 registration plate). New, the cost, would have been around £12,685 – less than 6 months' later, the value depreciated by 25% to £9,488. Further stats available here: http://news.cision.com/carfinance247-co-uk/r/carfinance247-co-uk-asks--is-that-new-car-smell-worth--3000-,c9300482
Contact:
Emily Henshall, Marketing Manager, Carfinance247.co.uk, telephone: 0800 019 7180 or email: emily.henshall(at)carfinance247(dot)co(dot)uk
About us:
Founded in 2000, carfinance247.co.uk is a privately owned business with offices based in central Manchester. We provide vehicle financing solutions for all financial circumstances such as hire purchase, personal contract purchase, contract hire and other leasing options. No deposit is required, and we give you the choice of buying any car from any dealer nationwide.
Or, if you prefer, we can supply and deliver any make and model of your choice.
Address: The Loading Bay
Albion Works
12-18 Pollard Street
Manchester
M4 7AJ