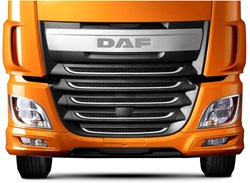 DAF Trucks has relied upon the quality and performance of Styrolution's products for nearly two decades.
Frankfurt, Germany (PRWEB UK) 12 November 2013
Styrolution, the global leader in styrenics, and TAKATA PlasTec GmbH, a leader in truck exterior and interior trim parts, today announced their selection as DAF Trucks' suppliers of choice for the newest generation of the 2013 DAF XF 106 cabin series.
A leading European producer of medium and heavy-duty commercial vehicles, DAF Trucks was one of the early pioneers to replace sheet molding compound (SMC) with ASA. DAF Trucks continues to lead the European market in its material selection and design. For the 2013 DAF XF 106, DAF Trucks chose Styrolution ASA specialty grades Luran® S 797S and Luran® S KR2866C for a combination of highly durable painted and unpainted parts for the upper truck cabin and lower chassis, integrating both function and aesthetics.
Product co-creation at its best
Styrolution worked directly with DAF Trucks throughout several design iterations, supporting both the cabin and chassis teams in generating superior impact resistance and dimensional stability. Stability was a key requirement for all components in the DAF XF 106 cabin series, as the typical ten-year life cycle of a truck is much longer than that of a car. DAF Trucks, Styrolution and Takata, the newest member of the collaborating team, worked together closely to uphold product requirements, with DAF Trucks overseeing the implementation of the mold flow results, process steps and welding.
Key points:

Made from Luran S KR2866C, an ASA/PC blend, the upper and lower front grills are shatter-, impact- and UV-resistant. This stabilization allows the premium black surface to remain unpainted and unfaded over time, while ductile break behavior helps the grill maintain its structure upon impact ensuring maximum protection for all road users by preventing splintering or flying parts in the event of a crash.
Due to the large size of the radiator grill, Styrolution worked extensively with DAF Trucks to problem solve in order to prevent components from developing a natural frequency or rattling. Luran SC offered qualities, such as good processability and optimized ductile behavior that helped DAF Trucks optimize the design process to reach a point where oscillations were no longer critical.
Since the majority of the vehicles DAF Trucks produces are white, it employs pre-colored white Luran S 797S with the SPF30 UV package. SPF30 so strong that it can help prevent light-colored parts from discoloring over time. The good paintability of Luran S also gives DAF the flexibility to either apply only a clear coat or to offer customers a wide range of around 2500 other color options.
The exterior panels for the truck cabin and lower chassis were produced using Luran S 797S SPF30, as were add-on parts that include the air deflectors outside of the cabin and the headlamp and footstep covers in the chassis. The cabin door extension was made using Luran S KR2868C.
Luran S 797, Luran S KR2866C and Luran S KR2868C belong to Styrolution's specialty portfolio, which consists of styrenic copolymers and specialty ABS grades used in a variety of exterior and interior automotive applications where high-quality aesthetics and exceptional performance are required.
Quotes:
Toon van den Einden, supply process manager - Polymers, DAF Trucks: "DAF Trucks has relied upon the quality and performance of Styrolution's products for nearly two decades. At DAF Trucks, we involve our partners very early on in the development cycle and this was certainly the case with Styrolution for the development of the DAF XF 106. Styrolution's Luran S ASA and ASA/PC grades have proven to be all-around quality solutions that combine dimensional stability, UV- and chemical resistance, and heat aging performance for premium aesthetics over time. This is especially important due to the long life cycle of our vehicles."
Horst Hesse, manager Europe Sales NAS, TAKATA PlasTec GmbH: "One of the keys to our success is to partner with suppliers who can work shoulder-to-shoulder with us to address our customers' unique requirements. Not only does Styrolution offer a broad range of high-quality styrenics but they also have the technical and industry expertise, as well as the development resources to help us innovate at the material level in order to meet and exceed customer needs."
Pierre Juan, global industry lead, Automotive, Styrolution: "DAF Trucks is truly a pioneer as it was one of the first truck manufacturers to move to thermoplastics. It is the highest compliment for us to continue working closely with their teams, co-creating innovative parts over many years and product generations."