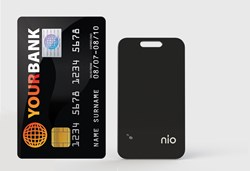 nio card will be a robust and reliable security system that protects what matters most to people. Our aim is to reduce the opportunity of theft or loss of valuables that create terrible anxiety for owners.
United Kingdom (PRWEB UK) 13 November 2013
One in every four Visa cards in the UK is now contactless with 26.9 million cards in circulation. These contactless cards use Near Field Communication (NFC) to make wireless payments without entering a pin code. Shoppers already spend over €1billion using contactless cards and smartphones equipped with a Visa, and a new security solution is needed to counter the ease of unauthorized payments
The nio Card is a 4mm-thin NFC smartcard packed with sensors that connects to a smartphone via Bluetooth to create a wireless security chain. Just slot it into a wallet or purse, and an alarm will sound if they're ever separated, so they never go missing by loss or theft.
This simple concept opens dozens of new opportunities, which relieve everyday people from the effects of loss or theft, and means its presence alone can be trusted to replace passwords or keys.
nio Card upgrades a smartphone or tablet with a range of exclusive applications, similar to Bluenio's, nio Safe, which locks access to personal information and notes like bank details and passwords on smartphones, securing privacy and making fraudulent payment virtually impossible.
Bluenio are currently testing other uses for proximity security such as door entry systems, or access to PCs in the work place, which unlock, say, as a user approaches a desk. People keep their wallet and phone with them at all times, and their combined presence authorises identity – a process known as two-factor authentication.
Bluenio's co-founder, Ben Hounsell: "A bank's contactless payment card isn't secure if someone steals it. nio Card can replace it entirely, and only works when it's with you and in range of your phone. We're having some really exciting discussions with Banks and security companies around this."
The nio Card is capable of much more, with a range of smart sensors and nine exclusive apps. An active community of developers are building a fleet of 3rd party applications which upgrade and enhance smartphones, using the only available SDK to let them experiment with new NFC technology.
Bluenio are looking to secure £35,000 worth of funding through Kickstarter. Using its open source development kit, the company is also keen to source investment from engineers and developers who see the long-term benefits the nio Card can offer in the future across a range of day to day applications. nio Tag, another proximity device has already been launched and is available on Bluenio.com website.