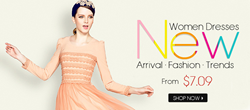 (PRWEB) November 12, 2013
Recently, one of the world's most famous wedding dress companies, TBdress.com, has proudly announced its Black Friday Sale. According to a sales manager of the company, the big sale is open to all customers around the globe. Now, all its beautiful dresses are offered at greatly discounted prices, up to 78% off.
Since it decided to sell its wonderful women's special occasion dresses through the Internet, the company has received many positive reviews online. Its sales turnover has been increasing greatly in the recent few years. For those who are in need of high quality dresses, TBdress.com is definitely a wise choice.
"We are happy to announce the beginning of our Black Friday Sale. We decided to launch the promotion in the hope of offering real benefits for all our current and prospective guests. I wish you enjoy the sale," the sales manager states excitedly.
It is true that the dresses from TBdress.com are of top quality and come in various hot styles. Since having the best dresses at very affordable prices is very important for ladies who are going to a special occasion, logging on TBdress.com is a must. The company is a leader in the industry providing inexpensive beautiful outfits, including wedding dresses, evening dresses, cocktail dresses and more. It strives to ensure that every product is a work of art.
About TBdress.com
TBdress.com is offering extensive and stylish collections of wedding dresses and other special-occasion dresses at acceptable low prices, and its products include a wide variety of wedding dresses, wedding lingerie, evening dresses, prom dresses, and more. They have vowed to provide their own wedding dresses without sacrificing the top-quality materials and fast delivery. For more details about corset and lingerie, please visit the website of TBdress.com.