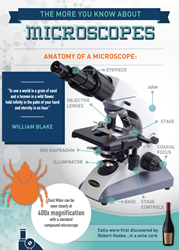 This is pure fun! Microscopy can be a somewhat dry topic at times, so we tried to inject a fresh visual dimension that will appeal not only to schoolchildren, but to amateur microscopists of all levels. - Charles Crookenden, President of Microscope.com.
(PRWEB) November 12, 2013
The colorful infographic covers a mixture of fun facts about microscopes, selected literary references, and a visual timeline of the history of the microscope so it is both educational and entertaining.
The company has the infographic on its website at http://www.microscope.com/education-center/microscope-infographic/ and is encouraging distribution across a wide variety of different magazines, educational blogs, and web sites.
Microscope.com is a leading internet retailer of microscopes and accessories that has been awarded TopTenREVIEWS Gold Award for Best Online Microscope Retailer for five consecutive years from 2009-2013.
For more information, contact:
Charles Crookenden
MIcroscope.com
1222 McDowell Avenue
Roanoke VA 24012
Tel: 540-904-0880