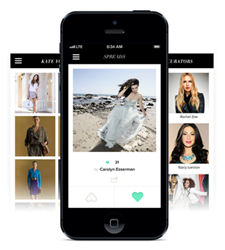 A fashion app that turns inspiration into action.
New York, NY (PRWEB) November 13, 2013
Mobella enables consumers to explore fashion photography from an exclusive set of A-List influencers. The beta app already allowed users to shop looks directly from the images themselves. The new release further optimizes the shopping experience by generating an automated wish list of products based on user interactions with the app.
"Our goal is to create a fashion app that turns inspiration into action," says founder Mike Blank. "By delivering a collection of stunning fashion photography through an addictive, game-like interface, we are able to track information about style preferences and match users to apparel and accessories they'll be sure to love."
One of Mobella's key differentiating factors is its relationship with content creators. Forgoing the fully crowd-sourced model, Mobella invites only prominent taste-makers to post looks to the system. Along with its strict standards for content, this is meant to ensure that Mobella is a credible source for visual inspiration, with no noise from the crowd. To that end, Mobella has onboarded a select group of style bloggers, fashion photographers and stylists as its first generation of Curators, including Amy Marietta of Viviere Bella, Claire Crisp of Claire Crisp Continued, Janelle Lloyd of Girls off Fifth, Aminta Iriarte of Clothes & Fashion, Laura Galvan of So Last Year, Aydin Arjomand, Sadie Sapphire and Aaron Jay Harris.
Curators earn commissions on sales of underlying products.
"Mobella instantaneously opens up a mobile affiliate sales channel for me," says Marietta. "I post my looks to Instagram and Facebook and even fashion specific services like Lookbook. But none of that activity converts to sales. Mobella can be a game-changer for style bloggers like me in that respect."
More information about the Curator Program can be found in Mobella's summary video.
The app can be downloaded on the iPhone Store here.
About Mobella
Mobella is a fashion photo sharing app that enables consumers to explore, get inspired by and shop looks styled by an exclusive group of invite-only tastemakers. The beta app launched in late August 2013, and the v1 version launched in November 2013. It is available for free download on the iPhone store here: http://www.mbl.la/mobella.