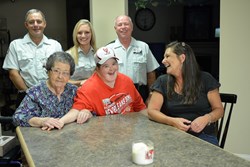 'I love it,' Duhon said. 'I love reunions of this sort where you can see the end result of your patient care and how appreciative individuals are of your services. It was a perfect reunion.'
(PRWEB) November 12, 2013
Youngsville native Amanda Quibodeaux teamed up with Acadian Ambulance to save her grandmother's life.
On Sept. 9, Hazel Mouton was driving with her granddaughter to an annual doctor's appointment when she suddenly felt weak. Mouton pulled over to the side of the road and asked Amanda to call 911 before becoming unresponsive.
Amanda, who was diagnosed with Down syndrome as an infant, doesn't read and has limited speech capabilities. But her grandmother had taught her how to contact 911 in an emergency. She gave Acadian Ambulance dispatcher Kelly Falcon the location of the emergency, and EMT-Paramedic Edwin Guidry and EMT-Basic Kevin Duhon responded to the scene.
"Maw gets the credit for that one," Amanda's mother, Charmaine Mouton, said. "I pushed Amanda very hard from an early age to be the best person she could be, to set goals, and accomplish them. I am very proud of her."
Hazel Mouton also had praise to share. "Kelly was very patient and kept my granddaughter calm in a moment of crisis," she said. "I understand the difficulty due to Amanda's condition and I cannot thank her, Edwin, Kevin and the LeBlanc Fire Department enough for what they did."
"I love it," Duhon said. "I love reunions of this sort where you can see the end result of your patient care and how appreciative individuals are of your services. It was a perfect reunion."
Since 1971, Acadian has provided the highest level of emergency medical care and transportation possible. In the past decade, the company has expanded to include a diverse suite of services in health, safety, and transportation. Acadian's six divisions are Acadian Ambulance Service, Acadian Monitoring Services, Air Med, Executive Aircraft Charter Service, National EMS Academy and Safety Management Systems.