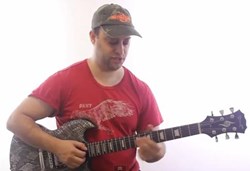 (PRWEB) November 12, 2013
In this guitar lesson, now available on YouTube.com, Claude Johnson teaches how to play a cool funky strumming pattern on guitar. TAB's for this lesson are available at GuitarControl.com.
In today's rhythm guitar lesson, Claude teaches a Funk style strumming pattern for guitar. "I love learning new strumming patterns," says Johnson, "it gives my guitar a new sound." In this funk style guitar lesson, Claude explains the count for the strum as being broken up triplets feel. Claude first reviews a basic strum from a previous video that consists of eighth notes in a 4/4 time signature, 1 &, 2 &, 3 &, 4 &, with a down stroke on 1, 2, 3, and 4 and up strokes on the &'s and then to another pattern variation of, 1 &, 2 &, 3, 4 &, again with down strokes on 1, 2, 3, and 4 and up strokes on the &'s, but this time the & of 2 is tied to the 3, makeing it ring out for one and one half beats. Then Johnson explains how to count 1/8 note triplets, (3 1/8 notes per beat), as Trip-le-t, Trip-le-t, Trip-le-t, Trip-le-t, or 1-2-3, 1-2-3, 1-2-3, 1-2-3. Then Claude says to "tie the first and second beats together, Trip-t, Trip-t, Trip-t, Trip-t, with a down stroke on the Trip and a muted upstroke on the t." The muted upstroke is achieved by simply lightly lifting up your fingers on your fretting hand so when it is strummed it makes a percussive sound. Then he adds a variation of that pattern of adding an & to the t, and by putting the two patterns together making one long pattern of, Trip-t, Trip-t, &, Trip-t, &, Trip-t, &, Trip-t, down strokes on the Trip's, muted upstrokes on the t's, and none muted upstrokes on the &'s. Johnson also explains the chord voicing's he is using in this lesson as "7th chords," 7th Chords are a variation of Major Chords, a Major chord consists of the first, third, and fifth notes of the major scale, by also adding the flattened seventh note you get the 7th Chord voicing. "If you want to get really funky, try the Nine Chord, the James Brown chord," says Johnson.
Claude Johnson
Claude Johnson, a native of Philadelphia PA, began playing guitar in 1990 after being inspired by players like Jimi Hendrix, Eric Clapton, and Stevie Ray Vaughn. He is the creator of GuitarControl.com and has helped 1000's of people to learn to play the guitar with his critically acclaimed instructional DVD courses, all available at GuitarControl.com.
About GuitarControl.com
GuitarControl.com is the leader in modern guitar instruction. It's packed with recourses including articles, video lessons, and the best videos in the business for the beginner to the advanced guitar student taught by the best instructors out there. Weather you are into the blues, rock, jazz, metal, folk, or anything in between, they have you covered.