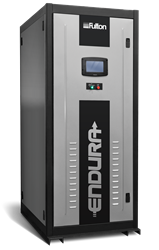 Pulaski, NY (PRWEB) November 14, 2013
Fulton Heating Solutions (http://www.fulton.com) announces the expansion of its condensing commercial boiler product lines.
The Endura™ boiler is the latest addition to Fulton's diverse product offerings for the commercial heating market. Currently available in 1.5 MM BTU/hr (EDR-1500) and 2 MM Btu/hr (EDR-2000), it is soon to be released in 1 MM BTU/hr (EDR-1000); 2.5 MM BTU/hr (EDR-2500); and 3 MM BTU/hr (EDR-3000) sizes.
The Endura will be featured at the 2014 International Air-Conditioning, Heating, Refrigerating Exposition (AHR Expo) January 21- 23 at the Javits Convention Center in New York, New York (Booth #2167). The Endura is a vertical firetube boiler with a compact footprint, featuring high quality, duplex stainless steel three-pass heat exchanger and enhanced fireside surfaces. It offers less than 20 ppm (parts per million) NOx emissions, full input with 4"wc incoming natural gas pressure, 120V single phase power supply, and up to 10:1 turndown capabilities. The Endura product line has been Air-Conditioning, Heating, and Refrigeration Institute (AHRI)-certified at 93.5% efficiency for the EDR-1500 and 93.7% efficiency for the EDR-2000.
The Endura boiler is equipped with a color touchscreen display with extensive capabilities, including Building Management System (BMS) communication and integrated sequencing for up to eight boilers.
For larger condensing applications, Fulton offers the Vantage™ condensing boiler, which was recently expanded to include 5,000,000 and 6,000,000 BTU/hr models. Eight MM BTU/hr and 10 MM BTU/hr models will be available in 2014.
Fulton's proven Vantage line offers rugged firetube construction and diverse burner configurations, including low emissions and dual fuel with #2 fuel oil for ultra-high efficiency applications.
"The Vantage and Endura products further build on our reputation for providing rugged, robust, and reliable products," said Erin Sperry, Fulton's Commercial Heating Product Manager. "Fulton's 25 years of experience in the commercial condensing boiler market facilitates key decisions regarding overall product focus."
Please join us at the AHR Expo (Booth 2167) for more details.
For additional information about Fulton and its products, or to locate a sales representative near you, please visit http://www.fulton.com.
The Fulton Companies is an American multi-national group of companies headquartered in Pulaski, NY. Fulton researches, engineers, manufactures, and sells complex heat transfer equipment for a wide range of commercial and industrial applications. Fulton has been an industry leader for more than 60 years. For additional information about Fulton, please visit http://www.fulton.com.