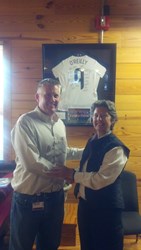 Winston-Salem, N.C (PRWEB) November 12, 2013
A nonprofit soccer league has the chance to raise thousands of dollars and bring value to their club, thanks to a nationwide discount card.
Sports retailer Sports Endeavors sponsored 2,000 hCards to give to Twin City Youth Soccer Association, a Winston-Salem nonprofit that organizes soccer for more than 2,500 children. Using the hCard's 100 percent fundraiser program, the Twin City Youth Soccer Association can sell the hCards and keep 100 percent of the funds for its mission.
"Our club continues to be interested in helping the community," said Scott Wollaston, executive director of Twin City Youth Soccer Association. "We feel that the hCard program offers a unique opportunity to support our local businesses while providing special discounts to our Twin City members. Any money raised through this program will be used to offset the operational expenses associated with running a fantastic youth soccer program."
Sports Endeavors is just one of many new businesses joining the hCard® app and mobile directory, a discount card that offers local and nationwide savings to users and helps support nonprofit groups, schools and teams.
"We are excited to team up with hCard®," said Durward Williams, director of Strategic Alliances for Sports Endeavors. "Through the hCard, soccer organizations, clubs and teams around the country have the unique opportunity to raise funds while saving their members money. We hope this innovative program continues to grow and look forward to working with them in the future."
The "Show and Save" hCard works like any other discount card, offering consumers unlimited, year-round discounts in stores, restaurants, salons and much more. In addition, the hCard directory features community businesses on five mobile apps, reaching thousands of new customers. The apps display the business name, location, website address and phone number.
"By joining the hCard Program, local businesses increase their visibility in the community, while local residents save and at the same time support their local nonprofits and schools," said Sandra Burnett, hCard president. "We are so grateful to these businesses for providing value to our program.  With their support, we are able to offer the 100 percent fundraiser to local nonprofits and schools."
In addition to Sports Endeavors, other new community partners are: CiCi's Pizza–Winston Salem and High Point, Vienna Barber Shop, Athletic Republic Sports Training Program.
About The hCard
The hCard® is a nationwide membership program offering discounts at local businesses in support of schools and nonprofits. Learn more the 100 percent fundraising program at http://www.thehcard.com
How It Works: The "Show and Save" hCard is accepted nationwide at participating businesses. Members use the downloadable app or show their plastic hCard to receive discounts at participating businesses, including restaurants, salons, retail shops and more.
Where to Get It: The hCard is free to members of the military and veterans. Supporters can purchase The hCard from a participating school, team or nonprofit.  Consumers can download the app from the iPhone and Android app stores (search for "hCard Discounts") or order The hCard at http://www.thehcard.com
###