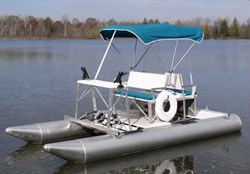 We had such a great time at last year's expo and attendees were able to see the impact of this unique paddle boat and its features in person.
Orlando, FL (PRWEB) November 13, 2013
Leisure Lifestyle Products, LLC, the exclusive southeast distributor of Aqua Cycle products, will be displaying the Aqua Cycle II Paddle Boat at the International Association of Amusement Parks and Attractions (IAAPA) Expo in Orlando, Florida from November 19th-22nd.
The featured product, Aqua Cycle II Paddle Boat, is the ideal platform for amusement parks, rental companies, camps, resorts and other various boat rental operations. The all-aluminum pontoon paddle boat is 13 feet in length and supports 800 pound capacity or four adults. The Aqua Cycle II is perfect for families, equipped with two adjustable bench seats, two for pedaling and two for enjoying the ride. The boat is complete with a rear swim platform, retractable ladder for swimmers and the shelf between the seats can be used for coolers or even tackle boxes. Those interested in learning more about this boat can visit Leisure Lifestyle Products' at Booth 4396 at the IAAPA Expo.
Aqua Cycles are great for rental and amusement operations due to their longevity, lightweight construction, uniqueness in the marketplace, ability to serve all ages and comfortable seating. Aqua Cycles are virtually maintenance free, providing solid revenue streams and customer enjoyment day in and day out.
"We had such a great time at last year's expo and attendees were able to see the impact of this unique paddle boat and its features in person," said Rob Rothley, owner of Leisure Lifestyle Products. "I am thrilled to have the opportunity again this year and hope to have another successful time."
Aqua Cycle is quickly growing and more organizations are offering or distributing Aqua Cycle products. New operators of the Aqua Cycle in 2013 include:
Victory Junction--Kids Camp, Randell, NC
Palmetto Bible Camp--Marietta, SC
Buena Vista Watersports--Orlando, FL
Prizer Point Marina--Cadiz, KY
Hampton Pines Park--North Lauderdale, FL
High Falls State Park--High Falls, GA
Fort Yargo State Park--Winder, GA
Kolomoki Mounds State Park--Blakely, GA
Happy Land--Comterra S.A--Santiago, Chile
Many of the above organizations found Leisure Lifestyle Products and Aqua Cycle at the IAAPA Expo in 2012.
About IAAPA Attractions Expo:
IAAPA Attractions Expo is the largest international tradeshow for the amusements and attractions industry, with more than 26,000 attractions professionals attending from around the world, over 1,150 exhibitors and representing more than 100 countries. Attendees can connect with buyers from amusement parks, theme parks, attractions, water parks, family entertainment centers, casino, zoos, aquariums, resorts, museums, themed entertainment, party rentals and many more. Visit the IAAPA Attractions Expo 2013 website for more information.
About Leisure Lifestyle Products, LLC:
Leisure Lifestyle Products is the Exclusive Southeast Distributor for the Aqua Cycle Line of Products with the distribution and final assembly warehouse facility located in Peachtree City, GA. Leisure Lifestyle Products covers Alabama, Florida, Georgia, Louisiana, Mississippi, North Carolina, South Carolina, Tennessee and Virginia. To learn more about Leisure Lifestyle Products and Aqua Cycle, visit http://www.leisurelifestyleproducts.com.