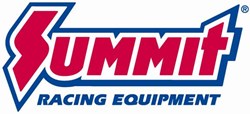 Tallmadge, OH (PRWEB) November 13, 2013
Keep batteries fully charged and have a handy power supply for 12-volt tools and accessories with high-quality Samlex America battery chargers and power inverters from Summit Racing.
Three-Stage Battery Chargers
These Samlex America Three-Stage Battery Chargers safely charge and condition flooded, AGM, or gel-cell batteries. The chargers will charge two or three banks of batteries simultaneously with no isolators required. They include either an ammeter or LED power indicators and are protected from short circuit, overload, and reverse polarity. They will even charge batteries already under external load.
The chargers are based on switching power-supply technology with a clean, well-filtered output. That means you can use a charger as a power supply as well. The Samlex America Three-Stage Chargers are configurable for 120 or 230 volts AC in ratings from 10 to 80 amps. Twenty-four-volt systems are also available.
BP-1210 Battery Charger
This 12-volt charger works with wet, AGM, and gel-cell batteries. The advanced 8-bit microprocessor control circuit charges your battery according to a precise algorithm, supplying up to 10 amps. The BP-1210 uses any voltage between 88 and 264 volts AC at 47 to 63Hz, so you can plug it in virtually anywhere on the globe. It has LED power and charge indicators and is short circuit- and overload-protected.
Solar Trickle Chargers
These chargers are ideal for keeping your car, boat, or RV battery topped-up for the next time you want to start them. Just plug one into a 12-volt cigarette lighter socket to provide enough energy to keep that battery charged. Use the .30 amp output unit for smaller or light-duty batteries; the .56 amp output charger is good for heavy duty batteries or battery banks, like in an RV.
DC/AC Modified Sine Wave Power Inverters
These DC/AC Modified Sine Inverters are ideal for powering tools, water and air pumps, incandescent lighting systems, and kitchen appliances from your car, truck, boat, RV, or battery bank. Summit Racing offers inverters ranging from 100 watts up to 3,000 watts. They operate on 12 volts.
Summit Racing also carries Samlex USA battery monitors, DC/DC converters, battery load isolators and charge protectors, and other components.
Summit Racing Equipment
http://www.SummitRacing.com
1-800-230-3030