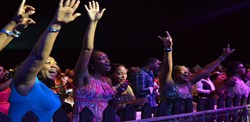 According to Huie, the partnership will give discounted packages to Outdeh.com customers using Travelwire.com as the preferred vendor for all travel related booking and Travelwire would also be Outdeh.com's preferred travel partner for all their events
Montego Bay, Jamaica (PRWEB) November 21, 2013
As Travelwire.com continues to position itself as a leader in online travel booking site, the company has partnered with one of Jamaica's best business advertising and events promotion company, OutDeh.com to promote the company's marketing campaign within the Caribbean, US, Canada and UK markets.
"Travelwire is focused on brand positioning and finding unique ways to market our vacation packages to a variety of audiences and we believe the partnership with OutDeh.com represents that. They have a vibrant and experienced marketing team with a strong fan and customer base and we want to communicate our message of being an affordable online travel booking provider to their audience." Travelwire founder Oliver Huie said
According to Huie, the partnership will give discounted packages to Outdeh.com customers using Travelwire.com as the preferred vendor for all travel related booking and Travelwire would also be Outdeh.com's preferred travel partner for all their events.
For OutDeh's upcoming event, Cold Sweat slated for December 21, visitors have a chance to book their packages today which includes hotel and admission to the event:
2 Nights at El Greco Hotel (Breakfast Included) $295
2 Nights at Sunset Beach Resorts - All Inclusive $318
2 Nights at the Wexford (Breakfast Included) $350
We understand the need for strategic partnerships in business and such an arrangement in the end will benefit OutDeh's customer base who will receive several discounts, travel deals and the affordable vacation packages. We remain committed to adding value to our customers and our affiliates as the Travelwire brand continues to grow" Huie further noted.
Marketing director for OutDeh.com Horace Daley welcome the new partnership and added that this will enhance the entertainment experience that they provide to their customers.
"This partnership will facilitate an added convenience to our overseas patrons who want an arrangement that take care of all their travel, accommodation and entertainment need. We are pleased with this transition in our business model and the customer stand to benefit the most in the end" Daley revealed.
About Travelwire.com
Travelwire, Inc. is a provider of vacation packages to the Caribbean, Mexico and Central American destinations. Travelwire has been recognized as the leader in providing memorable vacation experiences to thousands of travelers to the Caribbean, Mexico and Central America. Travelwire has no hidden fees and travel insurance is offered in addition to guaranteed customer support. "We turn your travel dreams into reality".
For more information or to book these packages visit: http://bookings.travelwire.com/package/category/OutDeh-Cold-Sweat or http://www.travelwire.com, call toll-free 1-877-293-9473 or 1-718-766-9995.