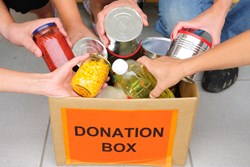 We take any opportunity we can to help out our South Jersey community.
Woodbine, NJ (PRWEB) November 13, 2013
The holiday season is the time for generosity, and Gentilini Motors takes it as an opportunity to give back to the local South Jersey community. The South Jersey car dealer teamed up with Lite Rock 96.9FM and began its annual Food, Coat, and Toy Drive on Saturday, November 2nd at the Somers Point ShopRite. They will continue the drive through the month of November at various ShopRite locations.
While at the designated locations, Gentilini Motors has a truck to fill with donations to be brought to the South Jersey Food Bank. Generous donors can bring new or gently used, unwrapped coats, hats, gloves, toys, and non-perishable food items to the drive at the designated times. This Saturday, November 16th, the drive will be held at the English Creek ShopRite between 11:00AM and 1:00 PM. The following Sunday, November 24th, the team will be collecting donations at the Absecon ShopRite location. Additionally, there will be collection boxes at both the Gentilini Ford and Chevy stores, both located in Woodbine, NJ.
"We take any opportunity we can to help out our South Jersey community," says Don Gentilini, "but we know that our help is most needed during the holiday season. You can take it as a chance to clean out your pantry and closet, and it really helps those in need to have a comfortable and enjoyable holiday."
Not only do donors get to join in on helping out the community, but they get to reap the benefits, too. Anyone who donates is given a voucher for $500 off their purchase of a new Ford or Chevy vehicle at the Gentilini Motors dealership.
Gentilini has also recently provided monetary donations and loaned vehicles this November to local organizations running their own holiday charity events to continue to improve the quality of the close-knit South Jersey community.
Gentilini Motors has been the trusted new and used car dealership that NJ residents have trusted for years. Founded in 1955, the dealer has made a name for itself in the industry of Ford and Chevy vehicle sales. Winning the Ford Presidents Award for Superior Customer Service for 19 out of the past 20 years, the family-owned and operated company is well-known for treating its customers like family.