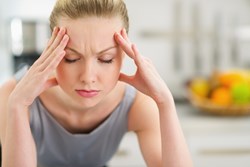 Stress is the response to challenging situation and demands, which push the body and mind to the limit.
London (PRWEB UK) 13 November 2013
The UK National Stress Awareness Day took place on November 6 to help raise awareness of the impact stress can have both on mental health and society as a whole. (http://bit.ly/1bXGici)
This is in response to growing numbers of people diagnosed as suffering from work related stress, which is backed up by recent research by Insurance Company AXA which showed that stress levels have doubled in four years. (http://bit.ly/19EpqUR)
ChemistDirect pharmacist Nada Elia said: "Stress is the response to challenging situation and demands, which push the body and mind to the limit."
"Someone suffering from stress may have a range of symptoms including moodiness, irritability, nausea, eating more or less than usual, and isolating themselves from friends and family."
It's useful for individuals to work out their stress triggers – they can do this by recognising when symptoms start and what they were doing when they felt stressed – perhaps by keeping a diary.
Ms Elia added: "This will help individuals to develop coping mechanisms for managing stress. They should also ensure they get time to regularly relax and unwind, such as taking part in exercise, socialising with friends and making sure they eat healthily and don't overindulge in drinking and smoking."
People under stress can often suffer from sleeping problems, so it may be worth considering using specific products that induce sleep. Products such as Bach Rescue Remedy, Kalms Sleeping Tablets and Horlicks, a malted milk hot drink, can be useful to take at bedtime.
However, there's no quick-fix cure for stress and no method will work for everyone. Talking issues through can also help, and there are often stress management classes help at doctors' surgeries or community centres. These classes help people to identify the cause of their stress and develop effective coping techniques.
Anyone who is concerned that they or a relative or friend is struggling to cope with stress should visit their GP.