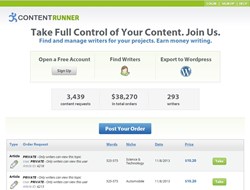 Our largest customer has already seen a decrease of about twenty-percent in their cost of writing and an increase in quality.
Seattle, Washington (PRWEB) November 13, 2013
Content Management Solutions, LLC announces the launch of Content Runner (http://www.contentrunner.com), an online writing marketplace that challenges the traditional industry norms.
Content Runner connects writers with the public, supporting the exchange of unique written copy. Content Runner adopts a competitive marketplace approach to pricing by allowing customers to set the price rather than enforcing a set rate sheet. In addition to the copy exchange, Content Runner also offers project management tools to facilitate the writing and publication process.
Open Lines of Communication
Marketplace incumbents have historically served as intermediaries between publishers and writers, censoring information that might enable the parties to operate independently. Content Runner creates an open environment where customers are encouraged to interact directly with writers, absent communication barriers that only serve to inhibit the writing process and protect exorbitant profit margins.
"We realized little value from the services provided by the exchanges operating today. We wanted to build a marketplace that eliminated unnecessary costs," said Ryan Devereux, co-founder of Content Runner.
"We also wanted to create a platform where customers and writers could create long-term, direct, relationships," added co-founder Chad Fisher. "After building trust with a writer, the services that most exchanges offer, such as writer rating scales, are simply overhead. Marketplaces that force users to pay these costs repeatedly are entirely inefficient."
Project Management Tools
In addition to bringing customers and writers together, Content Runner's focus is on providing services to help users manage and enhance the writing process. "We know we are taking a risk by severing the chains that prevent customers and writers from working outside the platform. If we want to keep users on the exchange, we need to offer tools and services that actually add value to the process. We believe we've done that," stated Mr. Fisher.
Content Runner comes to market with a suite of tools, each designed to address a different aspect of the idea-to-publication cycle. Requests are grouped into distinct projects, edits are seamlessly communicated, copy is checked for originality and a white-label Wordpress API exists to directly export completed copy to Wordpress websites. "These features are just the beginning," stated Mr. Fisher. "We have a number of enhancements in development."
Market-driven Pricing
"We also didn't like that other services forced us to use their defined pricing structures," expressed Mr. Devereux. "As with most markets, the participants are in the best position to establish the price, not the exchange. The tiered pricing structures mask deep profit margins for the incumbents. Content Runner allows customers to set the price, as well as to adjust it to react to market forces or alter quality."
Customers are able to review the other orders in the marketplace and adjust their pricing according to their needs. If highly-technical content is needed urgently, a customer can offer a premium rate to attract a writer with the requisite skills and who is able to work within the short timeline. User profiles and open channels of communication support personal branding and help writers market themselves effectively to their potential customers.
Existing Writer Relationships
In addition to bringing customers and writers together, Content Runner's mission is to support existing relationships.
Mr. Fisher notes, "Most companies already have writers with whom they work. We do. We built a platform that not only helps customers find new writers, but supports existing relationships. We stripped away unnecessary overhead to significantly reduce costs. We added project management tools to create efficiencies for our customers and we developed a writer support system that enables timely payment and tax reporting. In both the short and long-term, our customers will reduce costs by transferring their existing writing activities to Content Runner."
Looking Forward
Customers and writers looking to try the service can create an account on the company's website at http://www.contentrunner.com. There is no cost for creating an account. General questions can be directed to the company's mailbox at info(at)contentrunner(dot)com and technical questions can be directed to support(at)contentrunner(dot)com.
"We are very excited about the launch," said Mr. Devereux. "We believe we've developed a much more competitive marketplace. Our largest beta-tester has already seen a decrease of about twenty-percent in their cost of writing…and an increase in quality. Now we just need to get the word out."