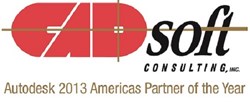 Tempe, AZ (PRWEB) November 12, 2013
CADsoft Consulting Inc., a premier provider of technical design and engineering solutions, and Autodesk 2013 Americas Partner of the Year, today announced their sponsorship of the ENR Southwest Best 2103 Projects Awards being held today at the Renaissance Phoenix Hotel in Phoenix, AZ. The ENR Best Projects Awards are a series of special events to celebrate and honor the building teams that created the best projects of 2013 nationwide. These extraordinary projects are selected by juries of local prominent industry professionals. Categories awarded cover a variety of building and highway/heavy categories - from Best Green Project to Best Highway Project and many more.
"We are excited to sponsor this event and recognize companies and firms from the U.S. southwest for their accomplishments." Stated Lisa Duncan, Principal for CADsoft Consulting. "Many are CADsoft Consulting customers and we are honored to celebrate in their success."
About CADsoft Consulting
CADsoft Consulting's national team of consultants helps clients pursue innovative concepts for 3D digital design, Building Information Modeling (BIM), Project Lifecycle Management (PLM), Leadership in Energy and Environmental Design (LEED), and 3D design visualization. With over 23 years of industry, business, and technical expertise, CADsoft Consulting's unique services has been sought after by an impressive list of architectural firms, engineering companies, manufacturing, government agencies, and academic institutions. CADsoft Consulting is an Autodesk Gold Partner for architecture, engineering, construction, civil engineering, geospatial, utilities, and academic solutions. In addition, CADsoft is an Autodesk Authorized Training (ATC) and Certification Center. For more information, please visit our website: http://www.cadsoft-consult.com.
Autodesk and ATC are registered trademarks or trademarks of Autodesk, Inc., and/or its subsidiaries and/or affiliates in the USA and/or other countries.