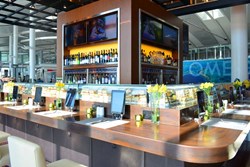 The balance of technology and aesthetics...
Toronto, Ontario (PRWEB) November 13, 2013
Never shy of a challenge, OTG Management recently upgraded Toronto's busiest airport terminals. The food and beverage operator teamed with some of the world's most talented chefs and Sommeliers to create a Luxury Experience for travelers to enjoy.
Travelers now have the choice of gourmet dining as well vibrant social settings. Amongst the 10 local restaurant experiences is Vinifera wine bar. Curated by Master Sommelier John Szabo. Vinifera offers an expansive wine selection made possible by WineEmotion™ USA's wine dispensing system, the Quattro+4 model. The wine dispenser's preservation and dispensing technology allows wine centric bars the ability to offer the finest wines with significantly lower risk of spoiling and waste.
OTG has integrated Pearson International Airport and other North American Airports with 2,000 iPads allowing travelers to use at their leisure. The management company plans to increase the count to 7,000 making it the second largest collection of free-use iPads for consumers right behind Apple Stores.
The balance of technology and aesthetics is a main trademark of OTG Management thus drawing Pearson International's interest for a partnership. The free-use iPads and WineEmotion's wine dispenser are two examples of the many amenities available at Pearson.
As travelers continue to express their approval it becomes more evident... the bar has been raised.
About WineEmotion™ USA
WineEmotion™ is the next generation of wine dispensing and preservation systems created to enhance the passion and experience of fine wine through research and technology. Created by Riccardo Gosi, WineEmotion™ is the latest advancement of Gosi's original world-renowned design. WineEmotion™ advances how wine is sold and served by eliminating spoilage, perfectly measuring pours, and serving at precise temperatures to enhance the customer experience while driving profits for business owners as a marketing and inventory management tool.
The WineEmotion™ line of wine dispensing systems are available directly through the manufacturer. Contact WineEmotion™ USA today for a custom solution at 800.671.3317 or online at WineEmotionUSA.com.