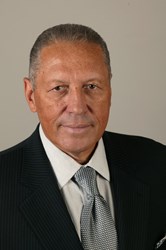 Silver Spring, MD (PRWEB) November 12, 2013
On the evening of Nov. 20, the Security Industry Association (SIA) hosts SIA Honors Night: Celebrating Performance, Partnerships and People in the Security Industry (http://www.securityindustry.org/Pages/IndustryEvents/SIA-Honors-Night.aspx) in conjunction with ISC East, the premiere exposition in New York City for security professionals.
ISC East, sponsored by SIA, is about one week away on Nov. 20-21 at the Javits Center North in New York. To register for free, visit http://www.isceast.com. Price at the door is $125. We look forward to seeing you there!
At SIA Honors Night, Ray Dean, former vice president of key accounts for Stanley Convergent Security Solutions will receive the George R. Lippert Memorial Award in an awards ceremony at The Lighthouse at Chelsea Piers, from 7–10 p.m., where attendees also will enjoy a sumptuous meal to celebrate the occasion.
Dean will receive the Lippert Award for his outstanding contributions to SIA and the security industry. Dean was chosen to as this year's recipient of the award by a unanimous vote of former winners. Bill Bozeman, president and CEO of PSA Security Network (and recipient of last year's award), will present the award to Dean.
Cygnus Business Media's Security Technology Executive (STE) magazine co-hosts the event and also presents the STE Security Innovation Awards.
Among the STE Security Innovation award recipients is the team that secured the Statue of Liberty during its refurbishment after Hurricane Sandy. The National Park Police led this project with the able support of lead systems integrator Total Recall Corp. and partners Axis Communications, BriefCam, DragonWave, Milestone, Pivot3, Proxim Wireless, RGB Spectrum, Scallop Imaging and Winsted Corp.
STE also will honor a program to secure Taino Towers, a low-income housing project in East Harlem in New York City with a high-tech video surveillance solution. Lead systems integrator Plugout worked with Axis Communications, Cisco, FST21, Genetec, Hewlett Packard and Ubiquiti Networks to meet the client's needs.
Finally, another STE award will go to a team that secured Houston's Memorial Hermann Hospitals, a network of 13 facilities that underwent major upgrades across its enterprise recently. For this project, Tech Systems Inc. led a team that included Software House, American Dynamics, Pelco, Salient, Bosch, Axis Communications, Sony, Aiphone, Viking, Talk-a-Phone and Code Blue TOA.
A portion of the proceeds of SIA Honors Night benefits the Mission 500 non-profit organization, which strives to get every company in the security industry to sponsor at least one child, providing access to life-changing basics like food, clean water, healthcare and education.
SIA Members can attend this high-profile event for $249; non-members for $299. Buy your ticket today at http://www.securityindustry.org/Pages/IndustryEvents/SIA-Honors-Night.aspx! Inquire about booking a table of eight at a discount rate of $1,699 for members; $1,999 for non-members. Press interested in covering the event contact Mickey McCarter, SIA communications manager, at mmccarter(at)securityindustry(dot)org or (301) 804-4704.
To increase your profile at this event, contact Alain Taylor at 301-804-4711 or Marc Benson at 301-804-4710.
The Security Industry Association (http://www.securityindustry.org) is the leading trade association for electronic and physical security solution providers. SIA protects and advances its members' interests by advocating pro-industry policies and legislation at the federal and state levels; creating open industry standards that enable integration; advancing industry professionalism through education and training; opening global market opportunities; and collaboration with other like-minded organizations. As a proud sponsor of ISC Expos and Conferences, and owner of the Securing New Ground Conference, SIA ensures its members have access to top-level buyers and influencers, as well as unparalleled learning and network opportunities.