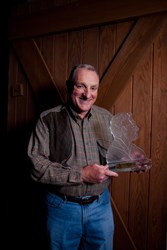 The conservation of our fisheries resources for the generations to come is of utmost importance to all of us, and I am happy to have been able to play even a small role in that effort. – Eddie Smith, Jr., CEO of Grady-White Boats
Fort Lauderdale, FL (PRWEB) November 14, 2013
Eddie Smith, owner and CEO of Grady-White Boats, was awarded the Rybovich Lifetime Conservation Award on Friday, November 1, 2013, at The Billfish Foundation annual gala in Fort Lauderdale, FL. Also recognized were Maumus Claverie, Jr., and Captain Ron Hamlin.
The award, named after legendary boat builder and conservationist John Rybovich, is The Billfish Foundation's highest honor, presented to members of the sportfishing community who have excelled in their contributions to gamefish stewardship and the associated sportfishing and boating industries.
Smith is recognized for his life-long devotion of time and energy toward ocean and fisheries conservation initiatives, as well as his dedication to designing and building outstanding fiberglass sportfishing boats.
"The conservation of our fisheries resources for the generations to come is of utmost importance to all of us," said Smith. "I am happy to have been able to play even a small role in that effort."
Eddie Smith has owned Grady-White Boats since 1968. Under his steady hand the company has been dedicated to building the ultimate outboard powered sportfishing boats. Over those 45 years, the Grady-White brand has become synonymous with fisheries conservation and been set apart from others by continued product excellence in quality, reliability, performance and style. Visitors are welcome to tour the factory in Greenville, NC, and meet the motivated craftspeople currently building 28 boat models. Visit http://www.gradywhite.com to learn more about Grady-White.