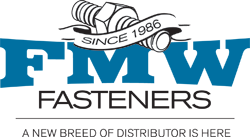 Houston, Texas (PRWEB) November 14, 2013
Buying fasteners can be confusing. FMW Fasteners wants to make your purchase decision not only easy, but worry free, just in case you were a bit off on the size you ordered.
"Hassle Free" returns now allow customers to return material up to 90 days from the date of purchase, no questions asked. FMW Fasteners will even provide a prepaid shipping label to use for your return. Fast. Convenient. Hassle free.
FMW Fasteners also offers free shipping on all orders over $25.00 and flat rate $5.00 shipping on orders under $25.00.
FMW Fasteners is your online source for premium fastener products: anchor products, nuts, bolts, socket products and screws. Founded in 1986 in Houston, Texas, FMW Fasteners stocks premium products by Brighton-Best, Simpson Strong-Tie Anchor Systems, ITW Buildex, Intercorp, Toggler® Anchor Systems, FastenMaster and many more. For more information, visit us at http://www.fmwfasteners.com.