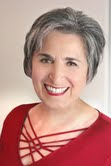 Joanne creates a sales process that ensures every call is hot and her clients close sales up to 70% of the time.
San Jose, CA (PRWEB) March 04, 2014
People First Productivity Solutions, a San Francisco Bay Area sales training and consulting company, will conduct a special interview with Referral Selling Expert Joanne Black on the March 8 CONNECT! Online Radio Show for Professional Sellers. In this broadcast, "Keep it Real!", the world's leading authority on Referral Selling and founder of "No More Cold Calling" will share some tips and ideas from her latest book "Pick Up the Damn Phone!"
Black will discuss how technology may be preventing you from making a genuine connection with your buyers and will describe why it's people, not technology, that will help you seal the deal. She will elaborate on how to turn cold calling into hot leads with referral selling. Deb Calvert, president of People First Productivity Solutions and host of CONNECT! Online Radio, will take listener questions in advance or chat with listeners during the broadcast. This practical and inspirational interview will shed light on the systematic, disciplined, measurable referral strategy used to leverage existing connections and contacts.
To tune in on Saturday morning March 8, go to blogtalk radio, and to call in live dial (347) 202-0896. To send questions in advance, e-mail deb.calvert(at)peoplefirstps(dot)com.
This program will also be available for download at Connect1 on iTunes or at the link above after the broadcast. You can listen to the archived recording of this broadcast as well as tuning in to hear a variety of topics and guests previously featured on the program. To access the archives, go to http://peoplefirstps.com/category/connect-online-radio/.
CONNECT! Online Radio Show for Selling Professionals is a weekly broadcast to help sellers cut out continuances, put an ending to pending and stop stalling out! CONNECT! listeners learn how to improve every connection with every buyer. Join the CONNECT! community for discussion groups, blogs, videos and other free resources for selling professionals, leaders and emerging leaders, trainers, coaches and individuals. CONNECT! is provided by People First Productivity Solutions which was founded in 2006 by former corporate Sales and HR Executive Deb Calvert with the mission "We Build Organizational Strength by Putting People First."