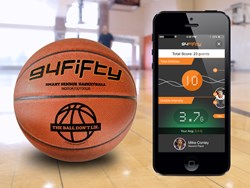 New York, NY (PRWEB) November 12, 2013
InfoMotion Sports Technologies today announced that it has been named an International CES Innovations 2014 Design and Engineering Awards Honoree for the 94Fifty Smart Sensor Basketball in the Embedded Technologies, Gaming Hardware & Accessories, and Health & Fitness categories. Each category in this prestigious program is judged by an individual group of preeminent panel of independent industrial designers, independent engineers and members of the trade media to honor outstanding design and engineering in cutting edge consumer electronics products across 29 product categories. As a result, the 94Fifty Smart Sensor Basketball was recognized by a variety of specialists on a wide range of features and uses.
The 94Fifty Smart Sensor Basketball measures and diagnoses key skills critical to building confidence, versatility, and success in the game. Utilizing nine sensors inside the ball, it delivers real-time shooting and ball-handling feedback including shot speed, backspin and arc measurements, to an iPhone or iPod touch via Bluetooth Low Energy, giving players of any skill level the ability to improve important muscle memory skills more efficiently and effectively.
The small suite of sensors inside the regulation size and weight basketball measures skill precisely and quickly utilizes that data to prescribe proven, personalized methods to improve shooting mechanics, shot release speed, shooting arc, power dribbling, hand-speed, mental coordination, and many other skills that have been traditionally impossible to measure.
"We are honored to be recognized in three separate categories by the International CES Innovations 2014 Design and Engineering Award program with the launch of our first product, the 94Fifty Smart Sensor Basketball. We are excited to launch this revolutionary new training tool just in time for the holidays," said Michael Crowley, CEO and Founder of InfoMotion. "We are committed to creating game-changing training tools to help athletes develop their skills in any sport."
The prestigious Innovations Design and Engineering Awards are sponsored by the Consumer Electronics Association (CEA)®, the producer of the International CES, the global gathering place for all who thrive on the business of consumer technology, and have been recognizing achievements in product design and engineering since 1976.
The 94Fifty Smart Sensor Basketball by InfoMotion will be displayed in The Venetian at the 2014 International CES, which runs January 7-10, 2014 in Las Vegas, Nevada. Honorees will also be displayed at CES Unveiled: The Official Media Event of the International CES from 4-7 p.m. on Sunday, January 5 in South Seas Ballroom C at Mandalay Bay.
The Innovations entries are judged based on the following criteria:

Engineering qualities, based on technical specs and materials used
Aesthetic and design qualities, using photos provided
The product's intended use/function and user value
Why the product deserves the Innovations award, including specifics regarding its unique/novel features and features that consumers would find attractive
How the design and innovation of this product directly compare to other products in the market place
Products chosen as an Innovations honoree reflect innovative design and engineering of the entries. Examples may include the first time various technologies are combined in a single product or dramatic enhancements to previous product designs.
Innovations 2014 Design and Engineering honoree products are featured on CESweb.org/Innovations, which lists product categories, as well as each product name, manufacturer information, designer, description, photo and URL.
The 94Fifty App is optimized for iOS 7 with a fresh, clean design and gives athletes the ability to share their achievements with friends, family and coaches via social media.
94Fifty Smart Sensor Basketball is available for $299.95 starting today at Apple Retail Stores and online at shop.94fifty.com. The 94Fifty App is available for free from the App Store.
94Fifty is the Official Smart Basketball of the National Association of Basketball Coaches and has been endorsed by the Amateur Athletic Union (AAU).
About InfoMotion® Sports Technologies
94Fifty® is the basketball brand of InfoMotion Sports Technologies Inc. (IST). InfoMotion is the world's pioneering leader for innovating sports products that quantify and digitize muscle-memory based athletic skills and for managing online communities in which our customers can share and compare results. 94Fifty develops sophisticated but cost-effective basketball skill analysis technologies for the mass market. 94Fifty is committed to bringing new information to both elite level and youth level basketball so that players can better develop skills and their coaches and trainers have objective information about their development. More information can be found at http://www.94Fifty.com.
# # #