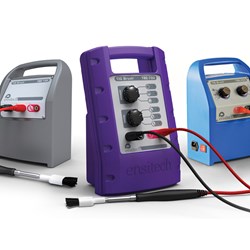 "It's fast, it's easy to operate, and above all I can even put an inexperienced employee to work on it and know that he's safe."
Chicago, IL (PRWEB) November 14, 2013
Ensitech is bringing its easy-to-use and portable TIG Brush Stainless Steel Weld Cleaning System to Fabtech 2013 in the hopes of showing American companies a quicker and higher-quality alternative to their current weld treatment methods.
The "TIG Brush Effect" as it has become known, is the wide-eyed look of disbelief frequently shown by first time observers as they view the TIG Brush's superior weld cleaning & passivation capabilities.
Essential to these capabilities are the system's proprietary electro-chemical process, combining low-toxicity fluids with a patented power supply and unique brush design which veritably serves to protect the weld against corrosion to the extent that the corrosion rate is reduced to below that of unwelded stainless steel*. Furthermore, the Ensitech Surface Finishing System provides welders a choice of four innovative cleaning fluids, plus dedicated fluids ranging from pre-weld preparation to finishing and marking, leaving fabricators covered at every step of the welding process.
Utilized by several industry-leading companies including Nestle, Bechtel and Thales Group, the TIG Brush has been rapidly adopted as the preferred weld-cleaning technology of quality and safety-conscious companies in the Food & Beverage, Oil & Gas, Defense, Chemical & Mining, Water Treatment, Energy and Construction industries across the globe.
Having recently established national distribution out of Chicago, Illinois, Ensitech is excited at the prospect of meeting new contacts at Fabtech and working toward the development of strong customer relationships as it officially unveils the TIG Brush to North America. Additionally, Ensitech booth visitors will have the opportunity to win a free TIG Brush by entering into a raffle, the winner of which will be determined on the final day of the show.
Ensitech - Booth # N1897
Fabtech Chicago
November 18-21, 2013
http://www.TIGBrushEffect.com
*The Welding Institute - TWI Report 23027/1/13-2
About Ensitech
Ensitech is an Australian-owned manufacturing company based in Western Sydney. It is the award-winning developer of the TIG Brush® Stainless Steel Weld Cleaning System and the Ensitech Surface Finishing System.
Ensitech produces high-quality products which change the way users do business by providing a safe, efficient alternative to dangerous and contaminating industrial practices. It does this by combining technical analysis and innovation with marketing and financial expertise to bring leading-edge products and concepts to the marketplace in a commercially viable system.
Ensitech's TIG Brush® uses the company's patented power management technology, together with a conductive brush and chemical solutions of proprietary design, to clean and passivate stainless steel welds without the need for dangerous chemicals such as pickling paste.
The Ensitech Surface Finishing System is a comprehensive range of products for the pre-weld preparation, post-weld cleaning and surface finishing of fabricated products.
Ensitech, Inc.
http://www.TIGBrushEffect.com
Phone: (630) 851-2126
Fax: (630) 851-7744
1005 N. Commons Drive
Aurora, IL 60504