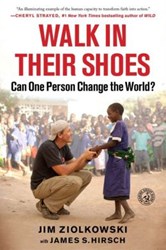 ''Walk in Their Shoes' is an inspiring tribute to the power of compassionand education; the keys to leading a meaningful life.' – Dalai Lama
Detroit, MI (PRWEB) November 13, 2013
Jim Ziolkowski, Michigan native and founder of the nonprofit organization buildOn, will give a talk about his new book, Walk in Their Shoes: Can One Person Change the World? at the Detroit Public Library (5201 Woodward Avenue) on Thursday, December 5 at 5:30 p.m. The event will feature a cocktail reception as well as a panel discussion with Ziolkowksi and a local Detroit student who is featured in the book.
In 1989, Jim Ziolkowski was an idealistic college graduate with the desire to travel the world, and a corporate finance job offer in hand. Like many graduates do before entering the "real" world, he took a lengthy backpacking trip before jumping into his fast-track career. But when he returned, he could not shake the inequity he had seen abroad—and he became inspired to address the extreme challenges of poverty and education faced by kids in urban America and in the poorest nations abroad.
L.A. Times Best Seller Walk in Their Shoes: Can One Person Change the World? (Simon & Schuster Hardcover) chronicles the experiences that led Ziolkowski to abandon his lucrative career plans, and to launch a lifelong quest to prove not that he could change the world—but that that any one of us can. The result is buildOn, a movement of thousands of young people who are using the power of service to transform their lives, their communities, and the world. Together they have contributed more than 1.2 million hours of service, and built more than 567 schools abroad.
The event is free to the public; attendees can RSVP at act.buildon.org/detroitbooksigning. For more information on the event please contact Michelle Mirzoian at michelle.mirzoian(at)buildon(dot)org.
About buildOn: At home or abroad, buildOn's goal is to break the cycle of poverty, illiteracy and low expectations through service and education. In the U.S., buildOn empowers urban youth to transform their neighborhoods through intensive community service and to change the world by building schools in some of the economically poorest countries in the world. Internationally, buildOn is constructing schools in Haiti, Nicaragua, Nepal, Senegal, Malawi, and Mali. Our students have contributed over 1.2 million hours of service in the U.S., and have helped build more than 567 schools around the world. In Detroit, buildOn operates afterschool programs in 7 Detroit public high schools where students have contributed over 180,000 hours of service to their community. Learn more at buildOn.org.