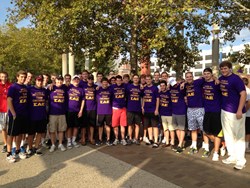 Cincinnati, OH (PRWEB) November 13, 2013
When new Caring Transitions franchise owner Paula Houston Allen heard that a University of Cincinnati Fraternity was looking for a sponsor for the Alzheimer's Walk, a light bulb went off.
"The Alzheimer's Walk is a proactive event aimed at making a difference for people living with Alzheimer's and their families. Caring Transitions is a proactive company looking to make transitions in senior's lives – many who suffer from Alzheimer's – much easier for the senior and their families. What a perfect fit," she said.
So Caring Transitions of Southeast Cincinnati and Northern Kentucky and the University of Cincinnati chapter of Sigma Alpha Epsilon teamed up to make a difference by participating in the 2013 Walk to End Alzheimer's in October.
Caring Transitions specializes in customized transition and relocation planning. Services include relocation planning and packing, new home settlement, full or partial liquidations, house cleanout and sorting, preparing houses for sale, working with home maintenance and repair partners, and other transition services.
Sadly, many of the people looking to make those kinds of transitions are suffering from Alzheimer's, Allen said.
"One of the best things about Caring Transitions, especially in a situation where you have someone with Alzheimer's, is that you're just working with us and we handle the rest. You don't have contractors, movers and other strangers to work with throughout the process. It really alleviates the stress and makes those types of transitions much easier for everyone involved," she said.
"Sponsoring a team for the Alzheimer's Walk, given what we do, made absolute perfect sense and I'm thrilled I could do it," Allen added.
The fraternity, who reached out to Allen through a sorority alumna who works at the university, said having Caring Transitions on board made all the difference, especially when it came to participation.
"We had 49 brothers at the walk. It was very beneficial to have the sponsorship because it encouraged people to get involved. It helped explain that we're not just walking three or four miles to raise awareness; you're walking, telling your friends about it, sharing it on social media, wearing the t-shirt and spreading the word the entire time. It's not just about what you're doing at the walk, it's about the impact you're making overall," said Adam Magier, the Community Service Chair at the University of Cincinnati chapter of Sigma Alpha Epsilon.
"Having Caring Transitions sponsor us for the walk also helped create a unique experience for a wide variety of students in our fraternity," he added.
Caring Transitions of Southeast Cincinnati and Northern Kentucky serves Anderson Township, Hyde Park, Mt. Lookout and Clermont County in Ohio as well as parts of Campbell and Kenton County in Kentucky. For more about how Allen can help you or your family with a transition, contact her at (513) 618-7418 or phouston(at)CaringTransitions(dot)net. Visit http://www.estatemoveandersonoh.com for additional information.
About Caring Transitions
Founded in 2006, Caring Transitions has been a trusted and highly respected national company leading the way in senior moving, household liquidations and estate sales management in dozens of cities across the United States. Caring Transitions is part of the International Franchise Association, the Small Business Association's Franchise Registry, VetFran and Minority Fran. For more information call 1-800-647-0766 or visit http://www.caringtransitions.com.