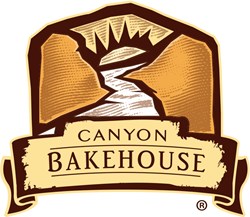 Loveland, Colorado (PRWEB) November 13, 2013
Consumers searching for gluten free breads can now enjoy the convenience of Canyon Bakehouse gluten free breads in Target® stores nationwide. The family-owned, dedicated gluten free bakery announced today the expanded distribution of four of its gluten free breads in more than 750 Target stores across the U.S.
According to the National Foundation for Celiac Awareness, sixty-nine percent of Americans are trying gluten free diets, and 1 in 133 Americans are living with Celiac Disease. With the gluten free diet on the rise, the demand for gluten free breads with real-bread taste and texture has increased. Made with 100 percent whole grains and only clean ingredients, Canyon Bakehouse breads are made artisan-style, providing healthy gluten free options the whole family can enjoy.
"This is an exciting opportunity to provide consumers with a healthier, tastier and more convenient option for finding gluten free breads," said Christi Skow, co-founder and owner of Canyon Bakehouse. "I was diagnosed with Celiac Disease in 2007 so I understand the need for breads that taste 'real' and don't make me compromise on taste, texture or quality, and that's really what we're here to provide."
Arriving this November, Canyon Bakehouse breads will be sold at room temperature on bakery shelves, and will offer four loaf varieties: 7-Grain, Mountain White, Deli Rye and Cinnamon Raisin, with an SRP of $5.49. Canyon Bakehouse breads can also be found in major natural and conventional grocers nationwide, including Whole Foods Market and Kroger. For a full list of stores, visit here.
About Canyon Bakehouse
Canyon Bakehouse is a dedicated gluten-free bakery located in Loveland, Colo. The family-owned bakery opened for business in 2009, recognizing the need for great-tasting, gluten free products that combine great flavor with soft texture and healthy ingredients. Made with 100% whole grains and only real-food, clean ingredients, the bakehouse has continued to expand its distribution, including more than 4,000 stores nationwide.