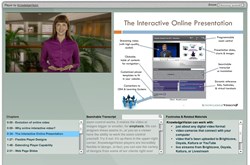 We're impressed by the management team, the software, and the growing customer base.
Lincoln, Massachusetts (PRWEB) November 12, 2013
KnowledgeVision Systems, the leader in online video presentation solutions, has closed a $1.65 million round of financing from institutional and private investors. The new investment will help expand products and services for KnowledgeVision's growing enterprise customer base, as well as its "KnowledgeVision Anywhere" initiative in mobile presentations.
KnowledgeVision's cloud-based services make it easy to create interactive video experiences by synchronizing presentation slides with video or audio streams, reference links, navigation, searchable transcripts, and social media tools. These online presentations are used for e-learning, content marketing, sales enablement, corporate communications, and investor relations.
"In financial services, health care, technology, and education, major companies are realizing the benefit of online presentations to provide learning, marketing, and sales messaging on-demand, 24/7," said KnowledgeVision CEO Michael Kolowich. "These enterprises are frequently switching to KnowledgeVision from older, less flexible technologies. They recognize that KnowledgeVision is the online presentation platform they won't outgrow."
Among the new investors in KnowledgeVision is Rand Capital (NASDAQ: RAND), which invests in businesses that offer unique opportunities for growth. "We're impressed by the management team, the software, and the growing client base," said Rand Executive Vice President Daniel Penberthy. "As part of our jobs, we listen to countless presentations, seminars, and web-based pitches. KnowledgeVision has the best software to improve every aspect of this communications medium. We're excited to be partnering with GrandBanks on this investment."
About KnowledgeVision
KnowledgeVision is reinventing the business presentation for an online, on-demand, video-enabled, mobile, anytime/anywhere world. A venture-backed company based near Boston, KnowledgeVision offers a Software-as-a-Service solution that makes it easy to create, share, and track online presentations.
View a demonstration of KnowledgeVision's online presentation system at http://www.knowledgevision.com/demonstration.