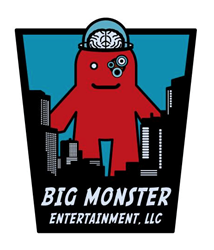 With our pool of skill sets and accolades...Big Monster Entertainment will make an impact.
Bethlehem, PA (PRWEB) November 13, 2013
Green Leaf Productions, a Pennsylvania multimedia production company, Tenacity Entertainment, LLC, an independent executive production house in Nevada, and Lazarus Films, LLC based in Los Angeles have teamed to form Big Monster Entertainment, LLC, a new company that will focus on feature films, documentaries, scripted TV and reality TV. Big Monster Entertainment has lots of momentum as its partner companies have projects currently on air and in world-wide distribution. Big Monster has offices in Los Angeles, Lake Tahoe, NV and Bethlehem, PA.
Principals will include three Managing Directors, including Lloyd Bryan Adams, Rudy Vegliante, and J. Lazarus Auerbach; leading Creative are Michael Noval (known as Producer of over 100 episodes of "Amazing Race") and John Wright. Combined, the team that makes up Big Monster Entertainment has scores of Tellys, eight Emmy Awards and multiple film festival considerations.
"It's a great partnership — we each bring something unique to it," said Vegliante, President/CEO of Green Leaf Productions. "We have some exciting projects that we're moving forward with now, and are anxious to announce and share them."
Recently in Cannes, France at MIPCOM, the company made some major strides with global networks and forged great alliances with the industry's leading distributors and production companies. Key projects include the documentary "Remember Us" based on the book of the same title, which provides a riveting yet uplifting account of the hidden children of the Holocaust, and scripted TV series including "Red Notice," a one-hour drama that explores the world of two Interpol agents and how they take on global crime. Feature films in pre-production include "The Fall of Eve," "Sex Sound and Silence," "Dillusions," "Collapes," "Unleashed" and "Shape Changers Wife." Executive Producer Lloyd Bryan Adams currently has his reality show "Hollywood Death Trip" on E!, and the team combined has over 50 shows in all stages of development, with some major deals to soon announce.
"Looking forward, this is really going to accelerate our development and will provide us with the production facilities needed to compete and collaborate with other major production companies," said Adams, Managing Director and Executive Producer of Big Monster Entertainment. "With our pool of skill sets and accolades that includes senior entertainment executives experience, production and television, Big Monster Entertainment will make an impact."
####
For more info: