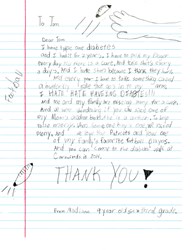 Type 1 diabetic children need the support of pro athletes to give them hope that they too can beat all odds.
Charlotte, NC (PRWEB) November 13, 2013
Melissa Perry Moraja, mother of four and author and illustrator of numerous children's books, asks Tom Brady, Patriots Quarterback and father to three young children, to exchange autographs at NFL Football Game on November 18th to build awareness and support for type 1 diabetes a disease that her twin daughter was diagnosed with on November 4, 2011.
"I'm hoping that Tom Brady will help me build awareness and support for type 1 diabetes by autographing copies of my children's books or a sports item with proceeds going to support type 1 diabetic children," shares Melissa. "Becoming a pro athlete isn't an easy task for a child living with type 1 diabetes as my daughter has shared in her letter to Mr. Brady. Having successful athletes like Tom Brady support and build awareness for this disease will give children hope that they can overcome their blood sugar challenges and pursue a career as a professional athlete."
Melissa's daughter was diagnosed with type 1 diabetes on November 4, 2011. Children living with this disease have to prick their fingers 8 – 12 times a day and are 100% insulin dependent until there is a cure. Managing a type 1 diabetic's blood sugar isn't easy. Everything affects it—the weather, what they eat, worrying about taking an exam, excitement during a sports tournament, and even dreaming during sleep.
"I was raised to believe the Patriots were a family's team," said Melissa, a native of New Hampshire and a New England Patriots fan. "My children's books were written with the family in mind, promoting self-awareness and confidence. Type 1 diabetic children need hope and the support of family. And I hope Tom Brady will help support not only type 1 diabetes, but the role of a family on November 18th. This disease requires a family working together as a team!"
Melissa Perry Moraja will also be reading her newest Wunderkind Family children's chapter book at Children's Story Time at the Southern Christmas Show on November 17th in Charlotte, NC, one a day before the Patriots vs. Panthers NFL game. She also welcomes Tom Brady and family at her event and would be happy to exchange autographs then, if it is more convenient. Her daughter and another type 1 diabetic child will be attending the event, giving Tom Brady an opportunity to meet and speak to them directly.
About Patriots, Tom Brady: Tom Brady was drafted by the New England Patriots in the sixth round (199th overall) of the 2000 NFL Draft.
About JDRF: The Juvenile Diabetes Research Foundation is a global leader in the fight against type 1 diabetes (T1D). Their mission is to discover, develop and deliver advances that cure, treat and prevent Type 1 Diabetes. For more information on JDRF please go to http://www.jdrf.org.
Type 1 Diabetes is an autoimmune disease where the insulin-producing beta cells in the pancreas have been destroyed. With type 2 diabetes a person's pancreas isn't producing enough insulin or their body has become insulin resistant a result of being overweight and not exercising.
About Melissa Productions, Inc.:
Melissa Perry Moraja is an entrepreneurial mom, a multifaceted business woman and a creative producer, authoring and illustrating numerous children's stories and self-help books. Founded in 2009, Melissa Production's mission is to offer humorous, inspirational products and services that promote self-awareness, creative learning, and leadership with the family in mind.With popular story book characters like Splatter, she speaks to children's hearts through humor and parents thoughts by providing educational stories. For more information, please visit http://www.melissaproductions.com.
Contact:
Melissa Perry Moraja
Founder and CEO, Melissa Productions, Inc.
704-246-7304
http://www.melissaproductions.com