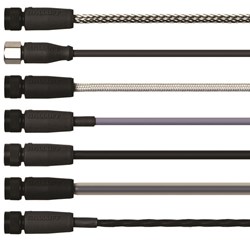 Florence, KY (PRWEB) November 13, 2013
Every manufacturer has challenges, but typically one of the most frustrating problems is when a connector or a cable causes downtime. In addition, cable failures can be difficult to diagnose due to their installation and finding the exact failure. This can cause extended downtime due to replacement of long cable runs through cable trays and rafters. Sometimes cable failures simply cause short repetitive downtime with constant replacement. Balluff's new line of high durability cables can help solve these issues. Balluff's cables help prevent downtime and replacement for physical, washdown, temperature and weld slag situations.
Balluff's High Durability Cables:

Silicone, silicone tubed, and PTFE cables resist hot weld sparks that can burn and destroy typical cables, as well as prevent build-up over time that could cause shorts and failures to the cables.
Stainless steel braid and flexible conduit cable versions are abrasion and crush resistant to prevent physical cable abuse.
ECOLAB and IP69K rated cable versions, with stainless hex nuts, are caustic and washdown resistant. They resist chemicals eating through cable jackets and high pressure washing destroying components.
Fiberglass jacket and thermoplast cable versions prevent high temperature melting and premature aging of cable material.
See Balluff's full line of High Durability Cables at the upcoming FABTECH show November 18-21 at McCormick Place in Chicago. Visit Balluff in booth #S4343.
Learn more about Balluff's high durability cables at http://www.balluff.us or at this link.
Download these high resolution photos on Flickr.