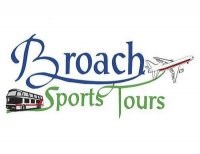 There's literally something for every baseball fan.
Charlotte, N.C. (PRWEB) November 14, 2013
Broach Sports Tours has unveiled a variety of 2014 Major League Baseball tours, owner Tom Broach has announced.
Included are several popular tours of that have become staples of Broach's summer tours, plus some new and unique tours aimed at giving fans chances to mark more stadiums off their baseball bucket list.
"This is an All-Star lineup, and not just because we have a trip to the All-Star Game in Minneapolis," Broach said. "There's literally something for every baseball fan. We've had so much fun in the past and the schedule worked out so well this year that we can offer several outstanding packages."
Broach Sports Tours is also offering sizeable discounts on all its baseball packages. Fans putting down a 10 percent deposit before Dec. 1 will receive discounts ranging from $200-$400 per person depending on the tour.
Among the long-time favorites are the New York to Boston Loop tour which includes games at Yankee Stadium, Fenway Park, Citi Field and a trip to Cooperstown; a Yankees weekend tour which also includes a game in Philadelphia; the Classic Northeast Tour which includes six games with trips to Yankee Stadium, Fenway Park and more; and the Hall of Fame Induction Tour which includes seven games plus all the festivities in Cooperstown.
The Ultimate West Coast Tour has been expanded to include all eight West Coast ballparks this year, with 12 games on tap over a 13-day span. The Midwest Tour includes three days in Chicago and eight games all told.
New this year are a Rust Belt Tour with games in Cincinnati, Cleveland, Detroit, Toronto and Pittsburgh, and a Midwest and Texas Tour which includes 11 games.
The All-Star Combo Tour includes seven games and all the festivities at the All-Star Game in Minneapolis.
Broach Sports Tours will also announce its Atlanta Braves Weekend packages at a later date. Broach is also capable of putting together custom packages to suit any fan's needs.
Broach Sports Tours, located in Charlotte, N.C., has been a leader in the group and travel industry for the past 21 years, specializing in MLB baseball tours. It also offers Masters travel packages, Wimbledon travel packages, Ryder Cup travel packages, and a package to the Westminster Kennel Club Dog Show among its many tours.
For more information, contact Melanie Smith at 800-849-6345 or visit http://www.broachsportstours.com.