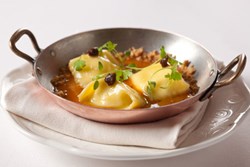 The sweet lobster bridges perfectly with the nutty brown butter, creamy roasted chestnut and cheese agnolotti.
(PRWEB) November 13, 2013
Live Maine lobster delivery service, GetMaineLobster.com, is continuing its holiday countdown with a new holiday seafood recipe. The Roasted Chestnut and Ricotta Agnolotti with Maine Lobster recipe is as comforting as it is delicious and is a great Thanksgiving meal alternative.
This delightful meal is comprised of a creamy roasted chestnut agnolotti combined with the sweetness of fresh Maine lobster, crispy kale chips and the tartness of crisp apples. Few things beat lobster with pasta and this mouthwatering meal will certainly not disappoint.
"This dish is a balance of flavors that will make anyone think you are a pro," says GetMaineLobster.com chef Mac Arrington. "The Maine lobster with creamy cheese and roasted chestnut pasta will be an instant favorite, especially during the colder winter months. The sweet lobster bridges perfectly with the nutty brown butter, creamy roasted chestnut and cheese agnolotti."
Anyone interested in trying out this recipe should take advantage of this week's seafood delivery special at GetMaineLobster.com. For only $119.00, a discount of $60.00, six five- to six-ounce Maine lobster tails and one pound of Maine seafood stuffing will be delivered fresh from the cold waters of Maine. Shipping is included and $1.00 of every order placed this week will be donated to the War Dogs Make it Home charity in honor of Veteran's Day.
Browse Get Maine Lobster's wide range of seafood offerings, access other Maine lobster recipes or view current seafood specials for delivery by visiting GetMaineLobster.com or call (866) 562-4817. Stay updated and Like us on Facebook or follow us on Twitter.
About GetMaineLobster.com
GetMaineLobster.com, a division of Black Point Seafood and Black Point Gourmet, hand-selects the finest Maine lobster, seafood and beef products for convenient distribution throughout the United States. Their passion is to make fresh, quality seafood readily available to customers across the country, which is why they buy from only the most trusted, well-established suppliers to ensure that they receive the finest products available.
GetMaineLobster.com was selected out of the more than four million small American businesses served by Chase bank to represent its new Platinum Business Checking product for its 2013 national advertising campaign.