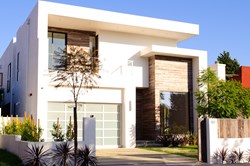 West Hollywood, CA (PRWEB) November 19, 2013
Dahan Properties completed their most recent project on 132 Laurel Avenue in West Hollywood California. Harmonizing modern architecture with eco-friendly living, Dahan Properties is synonymous with superlative Los Angeles real estate. Spaciously designed with custom one of a kind construction, it's no wonder why 132 Laurel was in escrow only one month after the beginning of construction.
Off market presales aren't unfamiliar to CEO Mayer Dahan. His previous home on 103 Laurel sold in the same fashion as the 132 property. The past three West Hollywood homes were also off market presales.
Dahan Properties' in demand homes can be attributed to the firm's quality construction, unique materials and eco-friendly amenities. Featuring design changes from previous projects, Dahan Properties has perfected their blueprints resulting in unparalleled luxury real estate. This has inspired other developers to mirror Dahan Properties' building techniques.
Designed with spaciousness in mind, 132 Laurel is not another stuffy West Hollywood home. The huge floor plan permits open living and expansive design. One of the most versatile features 132 Laurel has to offer is the terrace where the residents can sun bathe in the comfort of their own home.
The most elite feature of the home is without a doubt the eco-friendly finishes. The entire front of the home is adorned with green reclaimed wood and the interior is no exception to sustainable design. Recycled Italian tiles, installed in-line heaters and low-flow water systems are a few of many eco-friendly interior features. With 132 Laurel's superior modern architecture and eco-friendly elements, Dahan Properties looks forward to applying their building techniques to their next projects in Hancock Park and 109 Laurel.
__________________________________________________________________________________________
Dahan Properties is a corporation that houses businesses in different industries. These companies are Prime Five Homes, a full service real estate development firm, an e-commerce luxury clothing store, a real estate app under development, and a 501c3 non profit organization called The Dream Builders Project which was recently opened. Each company has a purpose to do good work in order to provide a higher quality of living for individuals. To find out more, please visit http://www.DahanProperties.com