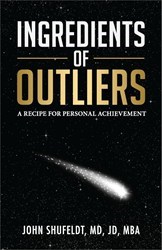 You and your book made me a better version of myself.
Scottsdale, AZ (PRWEB) November 14, 2013
Racing heart, sweating palms, and feelings of impending doom rushing through her entire body are all symptoms regularly felt by a fifth grade student who suffers from severe anxiety disorder.
"The attacks were so bad she had told her parents that she could hardly live with the anxiety anymore," said 5th grade gifted education teacher Brenda Rico.
Rico began reading Ingredients of Outliers, a new book by Phoenix resident John Shufeldt, MD, in order to better herself as a leader. She decided that the stories would be a great teaching tool to inspire her students to excel.
As written in the book, an outlier is a statistical observation of people that is markedly different in value from other people in the sample. According to author John Shufeldt the book was written to serve as a life guide for readers, to achieve their fullest potential.
In addition to sharing stories from Ingredients of Outliers, Rico talked with her class about the various "ingredients" that make up an extraordinary individual in the book. According to Rico there was one ingredient that stuck out in particular to the fifth grade student with the anxiety disorder.
According to Rico, the ingredient was imperturbability, or the ability to stay calm. The stories and material Shufeldt presented in his book spoke to the student and encouraged her to overcome her own fears and anxiety.
Ingredients of Outliers Shufeldt gave a presentation in Rico's class, and is now inspired to create a child friendly version of Ingredients of Outliers that will be released in the spring 2014.
"You and your book made me a better version of myself," the student wrote to Dr. Shufeldt
Learn more about Ingredients of Outliers by clicking : HERE.
NOTE: (The Name of the Student and School are not included to protect the privacy of these individuals)
About Anxiety in Children:
According to the Anxiety and Depression Association of America, "Anxiety disorders affect one in eight children. Research shows that untreated children with anxiety disorders are at higher risk to perform poorly in school, miss out on important social experiences, and engage in substance abuse." Charts produced by the National Institute of Mental Health depict that the lifetime prevalence of regular anxiety disorder in children ages 13-18 is 25.1%. 5.9% of children ages 13-18 experience severe anxiety disorder. According to The Child Study Cente, there are two available forms of treatment for anxiety disorders "a form of therapy called Cognitive-Behavioral Therapy (CBT) and medication, particularly the Specific Serotonin Reuptake Inhibitors (SSRIs)."
About Ingredients of Outliers:
"Ingredients of Outliers," written by John Shufeldt was released July 2013. This book is a life-guide filled with advice and stories from Shufeldt's own personal endeavors, as well as those of historical figures and influential acquaintances. Throughout the book, John describes the characteristics that make someone an "exceptional" individual who stands apart from the crowd, an "outlier."
Each one of the 16-chapters in the 169-page non-fiction book focuses on a different attribute that an "Outlier" demonstrates. The chapter topics include humility, failure, persistence, preparation, communication, imperturbability, tolerating risk, kindness, learning, optimism, perspective, indefatigability, efficiency, integrity, intuition and being one of a kind.
"Ingredients of Outliers" is a compilation of thoughts, tips and techniques composed as a guide towards discovering the ingredients for the "secret sauce" that will turn an individual from average to extraordinary and will inspire to join the ranks of the outliers.