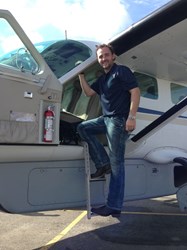 With flying, there are no mistakes. We've got one shot at it
Nationwide (PRWEB) November 19, 2013
One of Canada's most exciting and authentic documentary series, Dangerous Flights, aired in 2012 and is tentatively scheduled to make its American premier debut on November 24th, 2013 at 8:00 pm CST on the Smithsonian Channel. (Be sure to check your local Smithsonian Channel provider to make sure you don't miss the airing of this worldwide favorite.)
A Discovery Channel Production Company, this addictive docu-series has aired to rave reviews in Canada, the UK, the Middle East, South America, Europe, Africa and Australia, and is finally "touching down" in the US just in time for the hectic holiday travel season. However, for viewers who think traveling via plane is rough with check points, bland food and missed connections, they haven't seen anything yet.
"Whether they are propeller planes or jets, we sell to customers all over the globe and personally deliver many of them," notes Cory Bengtzen who keeps his company's products in the air until they reach the customer. As the owner of CB Aviation, Bengtzen made a dramatic move from the auto industry where he spent 15 years managing and co-owning car dealerships, to realizing his dream of flight.
His company began as a plane brokerage, solely selling planes to customers around the world based out of Ogden, Utah. But CB Aviation blossomed into a full-service international aviation retailer that includes ferrying the planes to their new owners. With the help of the best pilots in the industry, Bengtzen has taken CB Aviation to an entirely new altitude—but it doesn't come without deadly gambles.
Canada's Discovery Channel followed CB Aviation after discovering just how dangerous and risky these delivery flights can be. What happens when a customer in Poland wants a small Cessna plane, which is 40 years old, bought and delivered from California? These types of planes weren't designed to be flown on inter-continental flights and some insanely innovative adaptations need to be made.
Bengtzen's client skills, keen understanding of finance and passion for flight come together to make it happen. All this, along with a team of aviation professionals piecing together Macgyver-esque modifications to get the planes from point A to point B, even if point B is on the other side of the world and through super-storm weather conditions. On occasion a go or no-go decision may have to be made in the middle of the Atlantic or Pacific Ocean requiring a turn back.
Unique retrofits, such as installing an auxiliary fuel system inside the cabin—turning the plane into a potential flying bomb—are on par for the course in Bengtzen's world. Sometimes the planes are too heavy, sometimes the fixes are just crazy enough to work, and sometimes major culture and language barriers pop up. Personalities clash and safety boundaries are pushed beyond the limits. Nothing is fabricated or scripted on Dangerous Flights—when the team nearly freezes to death and the weather takes a deadly turn for the worse, it's all real.
Bengtzen counts on six key pilots, each with different certifications and skills. Pete Zaccagnino is also on the team, the winner of the 2013 Reno Air Race Jet Class. "With flying, there are no mistakes. We've got one shot at it," Bengtzen says.
Tune in to the American premier on November 24th for a real "pilot episode" to see how Bengtzen and his team tackle some of the most hazardous flights in the world with the savviest of tricks, incredible skills and an extra serving of sheer nerves and luck.