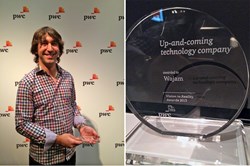 "Our goal is to elevate social search..."
Quebec, Montreal (PRWEB) November 13, 2013
Wajam (http://www.wajam.com), a leader in social search, was awarded with an innovation award as a Canadian Top 10 Up-and-Coming Technology Company at the PwC Vision to Reality Awards 2013. The company was recognized for innovations in social search, providing users with a more relevant search experience on the web and mobile.
Wajam joins an impressive group of Canadian innovators including finalists 500px, Bionym, Datawind, D-Wave Systems Inc., Frank and Oak, Global Relay Communications, Method Integration, Thalmic Labs, UrtheCast, and Vena Solutions.
"What an exciting evening to be among the top national technology innovators in Canada," said Wajam CEO Martin-Luc Archambault. "Our team continues to push the envelope when it comes to finding new ways to bring users the most relevant search results that matter. Our goal is to elevate social search so people can take their friend recommendations with them everywhere on multiple devices; when they shop, are looking for local restaurants and hotels, or even the best attractions to visit when they go to a desired destination. I'd like to thank PwC Vision to Reality Awards for recognizing what we have been able to accomplish and seeing our vision."
The PwC Vision to Reality Awards program celebrates dynamic companies in the technology sector that have demonstrated successful growth, and whose outstanding achievements have made them some of Canada's most successful technology companies. These companies have made a difference in Canada by having the courage to expose their visions, and then turn them into the reality of revenues, profit and benefits to the industry.
About Wajam – Great Minds Search Alike – http://www.wajam.com
Wajam (http://www.wajam.com) is a social search engine that gives you access to the knowledge of your friends when you need it. The Wajam Social Search Everywhere Plugin makes searching the web more personal by adding results from friends to standard searches on Google, Bing or Yahoo! It elevates search relevance by featuring your friends' likes and reviews for products, places, links, photos and videos within your regular search habits, even in places like Amazon, Yelp, Trip Advisor, YouTube and Ebay. The Wajam Search site gives users the ability to search their network of trusted friends and followers across multiple social networks all in one place. In addition, Wajam features a mobile app to tap into this social knowledge on the go.
Wajam was recognized with three Golden Bridge Awards in 2013; four 2013 International Stevies Awards; three 2012 International Stevies Awards; a Red Herring Americas Top 100 and Global 100 Award; a CIX Top 20 Most Innovative Companies in Canada Award; the C2MTL Emerging Entrepreneurs Award; and Deloitte's Technology Fast 50 Jury's Favorite Award. Wajam received the highest security certifications from TRUSTe, McAfee and Norton, and is committed to protecting privacy and keeping user info safe. Wajam launched in private beta in January 2011 and was founded by Martin-Luc Archambault, who was previously CEO of Zango Canada, the winner of the Quebec Notables Young Professional Award and the winner of an Ernst & Young Entrepreneur of the Year Award. Wajam is privately held and funded by Bolidea. Visit us on Facebook at http://www.facebook.com/wajam or Twitter at https://twitter.com/wajam. Please refer also to our award-winning Press Page or visit our Blog.