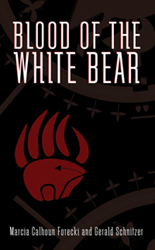 All the ingredients for a page turner are here.
Omaha, Nebraska (PRWEB) November 13, 2013
WriteLife LLC, an independent publishing company headquartered in Omaha, NE announces the publication and release of Blood of the White Bear. Inspired by a real environmental disaster, this fictional medical thriller is a collaboration between seasoned author, Marcia Calhoun Forecki and award-winning screenwriter, producer and director Gerald Schnitzer.
Images of a White Bear Kachina erupt from the dreams of virologist Dr. Rachel Bisette and invade her daytime consciousness. The kachina draws Rachel to the Four Corners to lead the search for a vaccine against an exploding and lethal pandemic. One elusive indigenous woman, Eva Yellow Horn, carries the gift of immunity. In her search for Eva, Rachel discovers power beyond science, the secret of an environmental disaster, and the truth of her parents' death.
"Marcia Calhoun Forecki and Gerald Schnitzer know how to write a fast paced, compelling novel. Partially based on actual events in the Southwest, they have a talent for constructing strong characters and a layered plot that keeps gathering momentum, with increasing tension and excitement. All the ingredients for a page-turner are here," said Dan Steinbrocker of News Media Services, Inc.
Marcia Calhoun Forecki grew up in Kansas City, Missouri. Her first book, Speak To Me, was published by Gallaudet University Press, and won a book award from the President's Committee on Employment of the Handicapped in 1986. It has been used in deaf education classrooms for many years. Marcia has published stories in several literary journals, including the Bellevue Literary Journal. Her first collection of stories, Hurricane Blues and Other Stories, published by WriteLife, includes The Gift of the Spanish Lady, a Pushcart nominee. Marcia is a contributing editor to Fine Lines literary journal, and writes a blog for writers and readers at Goodreads.com.
Gerald Schnitzer is a retired film director and screen writer. He was born and raised in Brooklyn and graduated from Dartmouth College in 1940. Following his service in WWII as a 2nd Lieutenant, attached to a French Cadet Air Crew Training Unit, he began his professional career as a writer and director in Hollywood. He retains his membership in Writers Guild of America and Directors Guild of America and continues his writing, publishing short stories in national magazines. In 2011, his book, My Floating Grandmother, was published, also with WriteLife.
Gerald's Polaroid art work was exhibited internationally. He owned and operated Gerald Schnitzer Productions for twenty years and was awarded several Gran Prix for his commercials for Kodak, Chevrolet, and Clairol. Feature film credits: Sail to Glory, The Naked, Doomtown, Kid Dynamite, Bowery Boys, Jinx Money, The Corpse Vanishes, and TV segments of Lassie and National Velvet. He gained notoriety in the world of TV advertising in the late 1950s by his humanizing commercial, creating the so-called "Kodak Moment."
Blood of the White Bear is available on http://www.writelife.com as well as other major online booksellers. The eBook will be available in Kindle format on Amazon and on Nook at Barnes and Noble in December.
About WriteLife, LLC
WriteLife, LLC is an independent publisher offering a uniquely collaborative approach to publishing, marketing and ongoing support to writers serious about their work. WriteLife advances their authors the pre-production and production costs of editing a manuscript; creating a book for publication; and placing it in key distribution channels. Once costs have been recuperated through book sales, each author is paid 50% royalties on every book sold.
Learn more at http://www.writelife.com/.
Buy WriteLife Books Online.
WriteLife on Twitter.
WriteLife on Facebook.