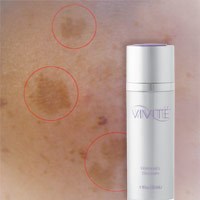 (PRWEB) November 13, 2013
The skin condition known as melasma affects millions of people worldwide. As noted in a recent publication by eVivite.com, 90% of those that suffer from melasma are women, likely due to hormones that trigger the ailment. While there are a variety of known treatments for melasma, patients with skin sensitivity are left with limited options.
eVivite.com explains that VIVITÉ Vibrance Therapy is a suitable option for all melasma sufferers, including those with hydroquinone sensitivity.
Details on Melasma
Melasma is a skin disorder that cause discoloration and darkening on areas such as the:

Cheeks
Forehead
Chin
Nose
Neck
Forearms
Though the exact cause for melasma still remains largely unknown, doctors have been able to identify triggers that set off the skin condition. These triggers include estrogen, progesterone and sun exposure. Birth control medications, hormone replacement therapy and hormonal changes from pregnancy are often catalysts for melasma.
Melanocytes, skin cells that produce melanin, are likely a contributing factor in the development of melasma. It is believed that melasma could be the results of an overproduction of these cells.
How VIVITÉ Vibrance Therapy Corrects Melasma
Traditionally topical creams that include the ingredient hydroquinone are suggested as viable treatment options. While virtually all users experience heightened UV sensitivity, some patients have been found to have hydroquinone sensitivity, which leads to adverse side effects. Patients with hydroquinone sensitivity may experience:
Dry skin
Redness
Tingling
Burning
Itchiness
New treatment options include chemical peels and laser therapy, however these can be costly and are out of the question for those with sensitive skin. Many doctors are now suggesting that people with skin sensitive skin or hydroquinone sensitivity use VIVITÉ Vibrance Therapy to treat melasma.
VIVITÉ Vibrance Therapy was formulated to remove discoloration yet is gentle enough to use on all skin types. It contains a combination of retinol, natural ingredients and a 15% glycolic compound called methyl dihydroxybenzonate, which is proven to lighten skin by blocking the enzymes that create pigment. VIVITÉ Vibrance Therapy has been shown to work as well as prescription hydroquinone creams without the need of a prescription.
Melasma can be effectively treated, though it is often a reoccurring problem. Sun exposure can quickly bring back the skin discoloration, which will remain until the areas are treated once again.
For more information on VIVITE Vibrance Therapy, how it works and its ingredients, please visit: http://evivite.com/full-selection/vivite-vibrance-therapy.html
About EVIVITÉ®.com
eVivite.com was created to provide consumers with a more affordable and efficient way to purchase authentic VIVITÉ® products. The company has created a process that eliminates the unnecessary logistical and storage costs, allowing customers to purchase directly from the warehouse at prices 30%-50% below retail. With eVivite.com, consumers no longer have to visit a doctor's office in order to obtain their VIVITÉ® products.
eVivite.com is a sister site to LatisseDoctor.com, a site which has been successfully selling Latisse (another Allergan product) since 2011. Both eVivite.com and LatisseDoctor.com are subsidiaries of Allied Medical & Diagnostic Services, LLC.