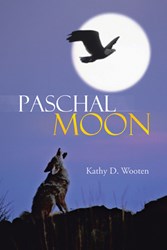 I kept it simple, fast paced and action packed.
Albany, N.Y. (PRWEB) November 14, 2013
If you want to escape to another world and forget the tedium of everyday life, author Kathy Wooten has a new book for you.
Wooten's new novel "Paschal Moon" main character Arvidia is a strong, independent woman, working with the FBI, who has suffered from loss and trauma. This novel takes on substantial themes, such as love, crime and suspense without portraying graphic violence and obscene language.
"I kept it simple, fast paced and action packed," Wooten said. "People seem to love the characters, especially Will, Blake and Arvidia."
Paschal Moon encompasses Arvidia's adventures on the east coast, while working on an undercover assignment. Her boss, Hal and the Quad try to keep her safe from the wrath of a man who has escaped from prison. The book's dangerous quests lie within Seattle and New York, while Arvidia works, discovers unexpected love and builds her relationship with God.
"I had a very hard time putting this book down," Sheila Prusko said, Amazon Reviews. "Loved it."
"Paschal Moon"
By Kathy Wooten
ISBN: 978-1-4624-0608-1
Retail price: $17.99
Available in paperback and e-book.
About the author
Kathy Wooten is fluent in sign language and resides in Rotterdam, New York. She currently works at Samaritan Hospital in Troy, New York as a Coder. Wooten was raised in Bellingham, Washington and enjoys attending the service at Light of Christ Christian Church and donating to the Humane Society.
###
**FOR IMMEDIATE RELEASE**