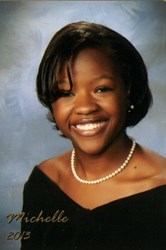 Athens, GA (PRWEB) November 14, 2013
Girl Scouts of Historic Georgia is proud to announce this year's recipient of the Jeanne McPherson Stansell Memorial Scholarship is Michelle Legette.
Legette is the daughter of Roy and Cheryl Legette of Athens and has been a Girl Scout since kindergarten. She is a 2013 graduate of Clarke Central High School. While in high school she received many awards including: Clarke Central High School Band Director's Award (2010, 2011); Clarke Central High School Band Most Outstanding Junior Award (2012); and Clarke Central High School Swim Team Spirit Award (2012). She was a member of the Clarke Central High School varsity swim team, chorus, beta club, environmental club, interact club, players theatre group, marching band, concert band and drama club.
Legette is currently attending the University of North Georgia, Oconee, and will transfer to the University of Georgia in January, where she is pursuing her dream of being a teacher and majoring in early childhood education. Eventually, she would like to earn her PhD and become an elementary school principal.
The Jeanne McPherson Stansell Scholarship is sponsored by the Stansell family in association with the Girl Scouts of Historic Georgia. The scholarship of $1000 is awarded annually to a graduating high school senior planning to further her education in the teaching field. This scholarship is based on academic achievement, Girl Scout participation, community involvement and leadership ability.
Girl Scouts is the preeminent leadership development organization for girls in the world. The Girl Scout Leadership Experience and award process encourages girls to discover, connect and take action on the issues most important to them. Girl Scouting builds girls of courage, confidence and character who make the world a better place.