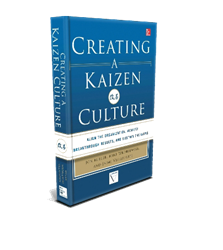 "The only thing of real importance that leaders do is to create and manage culture." – Prof. Edgar Schein
Mukilteo, Washington (PRWEB) November 14, 2013
Lean has become an essential methodology for the pursuit of innovation and excellence by startups, hospitals, governments, and organizations worldwide in virtually all sectors. However, fewer than 30% of companies are successfully engaging the creativity of their people in continuous improvement.
Recognizing the human factor as the critical gap in adoption of these proven management methods, veteran business transformation leaders Jon Miller, Mike Wroblewski and Jaime Villafuerte drew on decade of experience to write "Creating a Kaizen Culture: Align the Organization, Achieve Breakthrough Results and Sustain the Gains". The book provides a framework for any management team seeking to embed kaizen, lean or any continuous improvement approach into their organizational culture.
"It is very easy to deliver results using lean and various brands of operational excellence, but sustaining these gains through economic shifts and leadership changes is another matter entirely. We have seen over the years that the organizations that enjoy sustainable results are the ones that have succeeded in making it part of the culture," says Jon Miller, author and CEO of Kaizen Institute Consulting Group. "This book shows how to lead the kind of change that allows this cultural transformation to take place."
The key practices, behaviors and systems that enable a culture of excellence are illustrated by more than thirty real-life examples in the book. These include commentary from senior executives of Chrysler, Bosch, Herman Miller, ThedaCare, Franciscan St. Francis Health, Jabil, Medtronic, Wiremold, Oregon Community Credit Union, Lockheed Martin, Hill-Rom Industries, Kaas Tailored and other leading organizations
Michael Balle, executive lean coach and author of The Gold Mine and The Lean Manager observes, "Culture, learning, adaptiveness have become casual tools in the managerial toolbox – but what do they really mean? This much-needed book clarifies what culture actually means, and how to focus on a kaizen culture. Kaizen remains the breakthrough departure point of any lean effort – in the author's terms, a people-centric, problem solving worldview to benefit society."
The book provides a framework for leaders to understand organizational culture, both the visible and invisible aspects, and culture's role in improving performance. Kaizen is introduced as a guided and structured activity that effectively engages the creativity of employees at all levels and functions. Leadership insight for preparing and supporting long-term continuous improvement in the workplace is detailed based on decades of experience in the field.
"It is a continuous journey and the authors disclose just what it takes to understand and change an organization. Creating a Kaizen Culture is both a fascinating and an enlightening read needed by anyone desiring to truly understand how to accomplish this in their business," says Jim Huntzinger, President of Lean Frontiers and author of Lean Cost Management.
Creating a Kaizen Culture is available from booksellers, online in print and in e-reader formats.
About the authors:
Jon Miller has 20 years of experience in the field of kaizen. He is the CEO of Kaizen Institute Consulting Group. Born in Japan and living there for 18 years, he is fluent in its language and culture, allowing him to work closely with Japanese kaizen gurus. He was co-founder and CEO of Gemba Research, in which he spent 15 years as a senior consultant and trainer before merging it with the Kaizen Institute in 2011. Jon has traveled to over 50 countries and has wide experience designing global Lean deployment programs for many organizations.
Mike Wroblewski has over 25 years of experience in industrial engineering, manufacturing management and kaizen. He is a Director of Kaizen Institute USA. He has also served as an internal consultant and Lean Sensei with Batesville Casket Company with three factories winning the IndustryWeek "Top 10 Best Plants" awards a total of nine times and one facility awarded Assembly Magazine North American Plant of the Year. Mike is a Certified Six Sigma Black Belt from the Milwaukee School of Engineering.
Jaime Villafuerte has 20 years of experience in the strategic and tactical deployment of continuous improvement. He is a Lean Six Sigma Director at Jabil, Inc., where he leads the development and deployment of Lean Six Sigma transformation reaching 165,000+ employees in 33 countries. This includes designing learning solutions, developing the competencies of Kaizen Regional and Site Lean managers and authoring new training courses. Jaime is an ASQ Certified Six Sigma Master Black Belt and Lean Gold Certified by SME, AME and Shingo Prize. He has served as a Baldrige National Award Examiner in 2010.