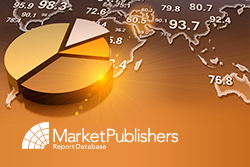 London, UK (PRWEB) November 13, 2013
Market Publishers Ltd and Metal Expert Consulting signed a partnership agreement for quality market research promotion on Internet. MarketPublishers.com is now authorised to distribute and sell Metal Expert Consulting reports.
Commenting on the agreement, Tanya Levdikova, Assistant Manager at Partners Department, said: "Metal Expert Consulting is a trustworthy provider of market and economic researches as well as feasibility studies and recommendations. The scope of the company's competence encompasses chemical industry, cargo transportation, and metallurgy. The publications prepared by qualified experts with unique experience and knowledge provide a clear understanding of the actual situation in the sectors examined, besides enabling to make objective assessments. We are glad to have partnered with Metal Expert Consulting and are confident that our cooperation will become beneficial to both parties and our clients alike, allowing them to substantially enhance decision making and improve the economic performance of their businesses."
In-demand Market Research Reports by Metal Expert Consulting Include:
Iron Ore Markets Forecast Till 2025. The research report provides in-depth insights into the global, Chinese, Russian and Ukrainian markets for iron ore. It discloses demand-supply statistics, uncovers data on the foreign trade, examines the main market trends, identifies risks and new opportunities in the field. The study delves into the competitive environment and reviews the major market participants. Moreover, the report not only presents historical and current data on the market performance, but also offers detailed forecasts for the markets covered.
Russian Steel Scrap Market. Features, trends, forecast. The report presents a comprehensive analysis of the Russian steel scrap market, covering ferrous scrap generation, collection, shipments and consumption in detail. The research study uncovers vital data on production and consumption, discloses foreign trade statistics, reviews the price fluctuations and discusses the important industry trends and issues. Additionally, the market future outlook is provided in the report.
More details on the publisher and its reports can be found at Metal Expert Consulting page.