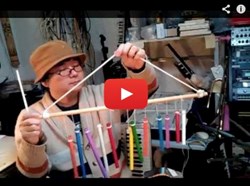 "World Music if the world only existed on YOUTUBE. "
Austin, TX (PRWEB) November 14, 2013
Probably the best part of Youtube is the ease with which one can wormhole from an intentional search to an unexpected gem. This is especially satisfying when a new favorite video has only 26 views—it brings back that feeling of finding weird public access TV shows from the days of yesteryear.
Well, a few months back, one such wormhole led Monofonus Press to the eclectic music of Kanda Mori, a self-proclaimed "bad taste horror cartoonist" from Tokyo. His sounds are all over the place, yet somehow threaded together. They form an image of a culture not usually witnessed. It's almost as if his music could be categorized as "world" music--with country of origin listed as "South Youtube." Kanda Mori throws everything into this release and comes up with disorienting and wonderful songs ranging from drone dirges to manic game show themes to psych folk. All the twists make this one a super engaging listen every time.
Click HERE to hear it.