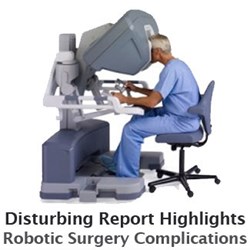 If you or a loved one have experienced Robotic Surgery complications contact Wright & Schulte LLC, today to discuss your legal options at 1-800-395-0795 or visit www.yourlegalhelp.com
Columbus, OH (PRWEB) November 12, 2013
The Da Vinci robotic surgery lawsuit attorneys at Wright & Schulte LLC continue to investigate reports of serious robotic surgery complications allegedly related to the Da Vinci surgical robot and have taken a deep interest in a Bloomberg News report concerning the lack of standardized training for physicians who use Intuitive Surgical's Da Vinci Surgical System. The report, published November 11, 2013, refers to a U.S. Food and Drug Administration (FDA) survey of surgeons in which respondents reported finding the complex interface of the Da Vinci robot a challenge to master and that physician training on the robot is inconsistent. [bloomberg.com/news/2013-11-11/robot-
surgery-incidents-may-pressure-hospital-training.html, November 2013]
The FDA physician survey on Da Vinci robotic surgery was published November 8, and detailed the responses of the 11 surveyed physicians who reported that "learning how to use the Da Vinci Surgical System is the biggest challenge of the device's complex user-interface." While each surgeon said they had received some sort of training on the device, all eleven said they "needed time for learning how to use the foot pedals, acquiring effective hand-eye coordination, and performing procedures without the ability to use their hands to touch or feel tissues, organs, or use sutures." [fda.gov/downloads/MedicalDevices
/ProductsandMedicalProcedures
/SurgeryandLifeSupport
/ComputerAssistedRoboticSurgicalSystems
/UCM374095.pdf, November 2013]
For information on Da Vinci robotic surgery complications visit our Da Vinci robotic surgery lawsuit webpage at yourlegalhelp.com.
According to Wright & Schulte, the report raises questions about the efficacy of current training for physicians and the need for a more standardized training approach. The firm's Da Vinci lawsuit lawyers agree with the assertions of Robert Sweet, a medical training expert at the University of Minnesota told Bloomberg that standardized training "is a systemic problem."
Wright & Schulte LLC also found validity in the comments of Jeff Berkley, CEO of Mimic Technologies Inc., a company that makes simulators used for robot device training, who told Bloomberg that robotic training "has been the wild, wild west for a long, long time," though with more patients filing Da Vinci robot lawsuits he said, hospitals are realizing "they have to get their act together and start focusing on training."
Bloomberg reports that so far this year, the FDA has received 3,697 adverse event reports regarding Da Vinci robot complications, compared to only 1,595 reports for all of 2012. Earlier this year, the FDA issued a warning letter to Da Vinci robot maker Intuitive Surgical Inc., after finding the company had failed to report adverse events and failed to make specific device corrections. (fda.gov/ICECI/EnforcementActions/WarningLetters/2013/ucm363260.htm, FDA, July 16, 2013)
Last month, Intuitive reported that about 50 Da Vinci robotic surgery lawsuits had been filed on behalf of individuals who claim they sustained serious injuries during Da Vinci robot-assisted surgeries. While earlier this year, the American Congress of Obstetrics & Gynecologists (ACOG) said there was a lack of evidence showing improved patient outcomes for robot-assisted hysterectomies, and advised that robotic surgeries should not used as a first choice for most women who need to have a hysterectomy. (sec.gov/Archives/edgar/data/1035267/000119312513297410/d551118d10q.htm; SEC, July 22, 2013) [acog.org/About_ACOG/News_Room/News_Releases/2013/Statement_on_Robotic_Surgery, ACOG, March 14, 2013]
Wright & Schulte LLC is now offering free legal evaluations to alleged victims of Da Vinci surgery complications, including tears and burns of the intestines, torn blood vessels, excessive bleeding, infections, punctured or cut ureters, damaged bowels, or vaginal cuff dehiscence. For more information on filing a Da Vinci surgical robot lawsuit, or to arrange for a free legal consultation, please visit yourlegalhelp.com.
About Wright & Schulte LLC
Wright & Schulte LLC, an experienced personal injury firm, is dedicated to the belief that America's legal system should work for the people. Every day, the attorneys of Wright & Schulte LLC stand up for the rights of people who have been injured or wronged and fight tirelessly to ensure that even the world's most powerful corporations take responsibility for their actions. If you're looking for a law firm that will guarantee the aggressive and personal representation you deserve, please do not hesitate to contact Wright & Schulte LLC today. Free case evaluations are available through yourlegalhelp.com or by calling 1-800-399-0795.